What is Abdominal Muscle Strain?
Also known as pulled abdominal muscles, abdominal muscle strain is a condition where some type of injury has take place to the muscles of the abdominal wall. Usually, a strain in an abdominal muscle happens when the muscles are placed under too much stress. As a result, the muscle fibers may become strained or even tear.
Abdominal muscle strains are not limited to professional athletes. It is possible for just about anyone to undergo circumstances that place additional stress of the abdominal muscles. Simple activities such as too many repetitions of certain exercises or straining the muscles while lifting may lead to a great deal of abdominal muscle pain. Fortunately, most cases are relatively minor and can be treated with ease.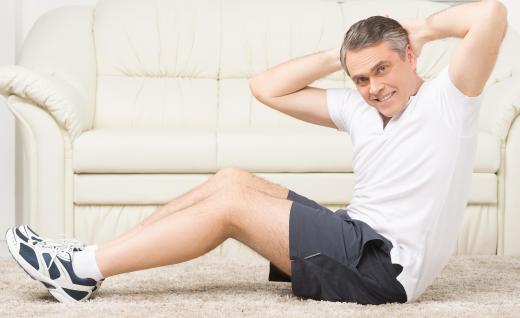 Cases involving a strained abdominal muscle problem are usually categorized in three different grades. Mild cases of muscle strain usually include a small amount of pain that does not hamper mobility. With this grade of strain, simple medication to alleviate pain and inflammation will allow the muscles to heal in a short period of time without restricting day to day activities.
Moderate cases of abdominal muscle strain involve a higher level of pain and usually do call for limiting some activities, especially exercises that involve working the abdominal muscles. Along with medication, the individual suffering with this type of muscle strain will also limit any activities that involve twisting or turning the abdominal muscles. Depending on the situation, a doctor may recommend wearing some type of restrictive bandaging during the day to help inhibit sudden movement that would pull the strained muscles.
Severe cases of abdominal muscle strain are characterized by constant pain that cannot be controlled without the help of medication. There is usually some type of bruising visible along the abdomen, accompanied by muscle spasms that further aggravate the pain from the strained or torn muscles. In some cases, it may be necessary to avoid most physical activity for a period of time while the muscles heal.
While it is never possible to completely immobilize the abdominal muscles, steps can be taken to relieve the level of stress that is placed on the muscles. Along with taking medication to help minimize the inflammation and pain, the application of ice packs during the first two days after the injury occurs can help to bring the situation under control and facilitate the healing process.
AS FEATURED ON:
AS FEATURED ON:

By: BlueSkyImages

Abdominal muscle strain occurs when the muscles are placed under too much stress.

By: theartofphoto

Over-exercising can cause abdominal muscle strain.

By: iceteastock

Performing sit-ups on an incline can increase the amount of stress put on the abdominal muscles.

By: Luis Louro

Weak abdominal muscles may lead to back pain.

By: Sonja Birkelbach

The pain caused by mild cases of abdominal muscle strain can be treated with anti-inflammitories.

By: Grafvision

A severely pulled abdominal muscle may cause constant pain.

By: Kimberly Reinick

Ice packs may help minimize inflammation associated with an abdominal muscle strain.

By: Balint Radu

During strenuous activity, muscle fibers may become strained -- or even tear.