What is Absolute Neutrophil Count?
The absolute neutrophil count (ANC) is a lab test measuring the number of neutrophils present in a blood sample, measured per microliter. This test provides important information about a patient's immune status, as neutrophils play a key role in the human immune system. Doctors can request an absolute neutrophil count for a patient suspected of having an immune condition or a patient at risk of immunocompromise, such as a patient undergoing chemotherapy for cancer, for the purpose of diagnosis and evaluation.
Neutrophils are a type of white blood cell involved in a number of different immune responses. They have a relatively short lifespan in the body, and an ANC can provide an excellent snapshot of current immune function. In the test, the technicians look both at mature neutrophils, and immature cells that will differentiate into neutrophils, to project the patient's count over the days to come in addition to determining how many cells are active at the moment.
If the absolute neutrophil count is above 1,500, it is within normal range. Counts below 1,000 indicate mild neutropenia. The patient is at risk for infection, but the risk is relatively low as long as the patient exercises commonsense precautions. Counts of 500 or less are in the danger zone. The patient's immune system is highly compromised and the patient will not be able to fight off infection. For the patient's safety, contact with other people should be limited to individuals known to be healthy.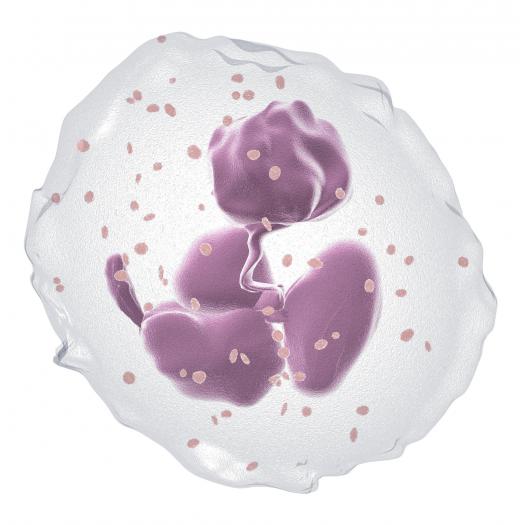 When neutrophil counts start to dip, patients may be advised to take special precautions to avoid infection. Washing hands to limit the spread of infection is recommended, along with avoiding crowded environments, where numerous people may be carrying infections that are minor for them, and potentially serious for someone with a compromised immune system. In individuals with very low counts, hospitalization may be recommended for safety or the patient may be advised to stay at home and limit access to healthy family members and caregivers.
Doctors can request an absolute neutrophil count on a patient undergoing chemotherapy to see how well the patient is responding and to identify potential risks to the patient. This, along with other lab tests, is used to monitor patient progress during chemotherapy treatments. If the patient is not responding, a new treatment plan may be developed with secondary chemotherapy drugs to see if the patient's cancer will respond to those drugs.
AS FEATURED ON:
AS FEATURED ON:

By: Lasse Kristensen

Washing hands to limit the spread of infection is recommended.

By: tandel

A neutrophil is a type of white blood cell that is involved in a number of immune responses.

By: Photographee.eu

A patient being treated with chemotherapy may be given an absolute neutrophil count test because they are at risk of being immunocompromised.

By: prudkov

Chemotherapy treatment may cause hair loss in some patients.

By: frog-travel

The ANC measures the amount of neutrophils in a blood sample.

By: Tyler Olson

Chemotherapy patients may undergo an absolute neutrophil count to see how they're responding to treatment.

By: DjiggiBodgi.com

Patients with a low ANC result must take precautions to avoid infections.