An acute injury is an injury with a sudden onset, usually as a result of trauma. When treated promptly, such injuries are of limited duration. Untreated injuries can develop complications that may lead to chronic injuries, injuries that persist in the long term without resolving, and in some cases, people can die from untreated acute injuries. Treatment of severe acute injuries is the province of the emergency room, while milder injuries can be managed at home with first aid.
Some causes of acute injuries are burns, electrical shock, car accidents, falls, sprains and strains, and fights. In all cases, a single incident causes an injury and the severity of the injury can vary. People with mild injuries retain consciousness and do not require extensive medical intervention. More severe injuries may require surgery and other emergency measures to prevent loss of life or permanent disability for the injured person.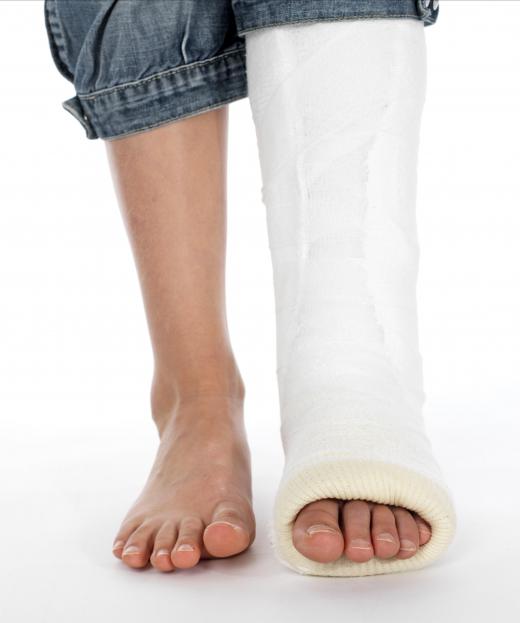 Certain acute injuries are larger causes for concern than others. Head injuries must be carefully evaluated because they can result in brain damage and may put a patient at risk for complications in the future. Bruising of the abdomen as seen in car accidents, some types of falls, and beatings can also be a worry because it is possible for the patient to experience internal bleeding or organ damage that are not readily apparent. Likewise, an injury acquired in a contaminated environment is worrisome to care providers because it can lead to infections if microorganisms and other materials managed to enter the patient's body.
Immediate treatment requires assessment to determine the location and nature of the injury. The patient's level of consciousness must also be assessed. If the patient is breathing, talking, and experiencing minimal pain after an acute injury, these can be signs that the injury is minor and can be treated with cleaning and monitoring. Patients who experience severe pain, have difficulty breathing, or develop an altered level of consciousness may require attention from a physician.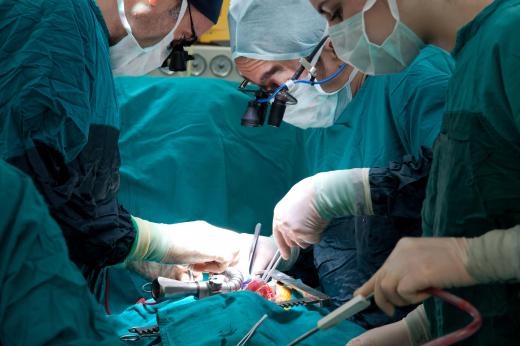 The concern with these injuries is that if they are not treated appropriately, the patient can develop secondary injuries. These can include infection, inflammation, tissue death, disfigurement, permanent muscle damage, and other problems. Providing patients with timely and appropriate treatment for the injury can limit damage that leads to chronic problems. For example, if an athlete has a torn ligament, the limb involved needs to be rested and the patient may need physical therapy to rebuild strength.
AS FEATURED ON:
AS FEATURED ON:

By: kameel

A broken leg is an acute injury.

By: seraphic06

An acute brain injury is caused by sudden damage to the brain.

By: derege

An acute injury may require immediate surgery.

By: Monkey Business

Car accidents are a common cause of acute injuries.

By: Magalice

Severe burns are a type of acute injury.

By: william87

Traumatic accidents are the most common cause of acute brain injury.