What is an Anabolic Hormone?
An anabolic hormone is a chemical that encourages cellular growth, usually building molecules up and into something new once they've been broken down. They play an essential role in the metabolic processes of humans and many animals, and are responsible for things like muscle growth and the expansion of nerve pathways. A number of different hormones fall within the "anabolic" classification. Many are naturally secreted by the body, usually as a way to synthesize complex tissues like fat and muscle from simpler compounds. Insulin and testosterone are two common examples. Scientific researchers have also developed ways to create many synthetically, often as a way to replace hormones in people who aren't secreting enough on their own. Drugs used to trigger growth are commonly abused, however, particularly by athletes and others who want to bulk up their muscles quickly.
Role in Metabolism
Metabolism is a complicated process through which raw cellular matter is broken down and converted into energy. There are two primary parts, namely catabolism and anabolism; the two work together to promote healthy growth and development, and each is carried out and regulated by a series of specific hormones.
Catabolism is the process through which cellular matter is broken down into its individual molecular parts. Once this happens, anabolic hormones can build them up into something new. In certain situations these sorts of hormones also serve to block catabolic hormones, such as cortisol and progesterone. Muscle growth and development is one of the most obvious outcomes, but these sorts of hormones also impact a range of internal processes and smaller-scale growth operations. Development and growth in children is fueled in large part by the work of these hormones, and they are also essential when it comes to breaking down food into useable energy and maintaining a healthy weight.
Natural Secretions
The body produces the majority of the anabolic hormones it needs as a normal consequence of metabolic function, though there are many different examples. Insulin, which is secreted by the pancreas, is one. Among its many functions, insulin is primarily responsible for protein synthesis and the metabolism of sugar and carbohydrates. After it reaches receptor sites on individual cells, insulin facilitates the entry of glucose across cell membranes and into muscle and fat tissue. People who aren't able to regulate the insulin levels are often diagnosed as diabetic, and may be able to benefit from regular insulin injections and other hormone therapies.
Testosterone, commonly known as the male "sex hormone," is another example. Both men and women usually secrete it to some degree, though men typically have much higher concentrations. Among other things, this hormone is responsible for causing hair growth and muscle density and, in men, sperm production.
Artificial and Introduced Hormones
Modern science has allowed most of the body's hormones, be they anabolic or otherwise, to be created synthetically in labs. Testosterone, for instance, has been manufactured and sold for decades as a hormone supplement. It was manufactured on a large scale for the first time in the 1930s and was administered to German soldiers to enhance muscle growth and to increase their potential for aggressiveness. Soon after, athletes were beginning to experiment with testosterone for performance enhancement. Most of the world's sports-regulating bodies have since banned the use of anabolic steroids. In excessive doses, testosterone is toxic to the liver and causes the male body to lose its ability to produce adequate testosterone on its own, resulting in atrophy of the male sex organs.
Inappropriate Uses
Most governments regulate the use of steroids and performance-enhancing drugs, but this doesn't usually tamper their popularity with athletes and body builders. Hormones that are manufactured into steroid supplements can be either natural or synthetic, and they are usually administered in pill form or by injection; a doctor's prescription is almost always required, but many people have found ways around this.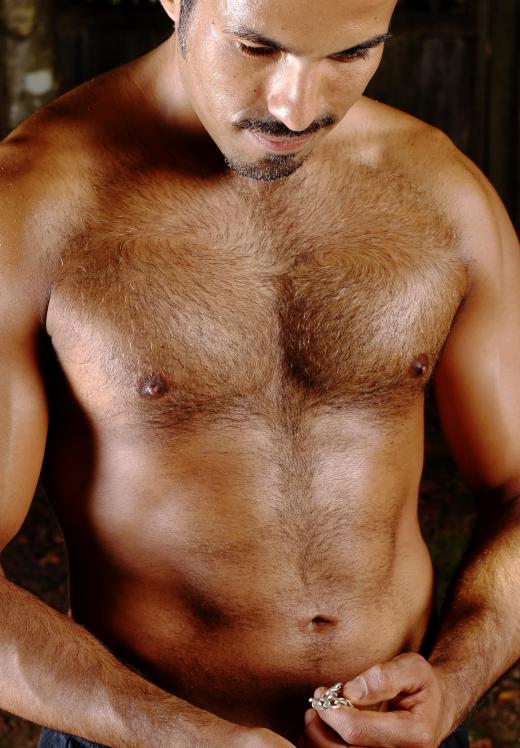 Inappropriate use of hormones that are designed for one thing but then taken for something else is also common in many places. Human growth hormone (HGH), for example, is a hormone on which every organ of the human body relies for growth. Both men and women produce it when lifting weights or participating in other muscle-building activities, though not everyone secretes it at the same rate. HGH is used clinically for conditions relating to growth deficiency and in cases where people cannot produce their own. It has beneficial clinical uses and is available from medical professionals, but it is widely used illegally as a way to attempt to increase muscle growth and muscle strength.
AS FEATURED ON:
AS FEATURED ON:

By: Artem Furman

Anabolic hormones are used to promote muscle growth.

By: Richard Kane

Professional athletes have used anabolic steroids to increase game performance.

By: Attila Németh

Anabolic steroids, which are made with anabolic hormones.

By: Sergey Kamshylin

In World War II, anabolic hormones were administered to German soldiers to beef up their aggressiveness.

By: Christopher Howey

Human growth hormone is often abused in order to increase muscle growth and strength.