An endodontist is a dentist who specializes in problems with the inside of the tooth: the pulp, which is made up of nerves, blood vessels, and other soft tissues. One of the most common procedures these dental professionals perform is a root canal, which involves removing the infected pulp from a tooth and sealing it up. Also known as endodontic treatment, this procedure can be performed by a general dentist or may require the expertise of a specialist.
Qualifications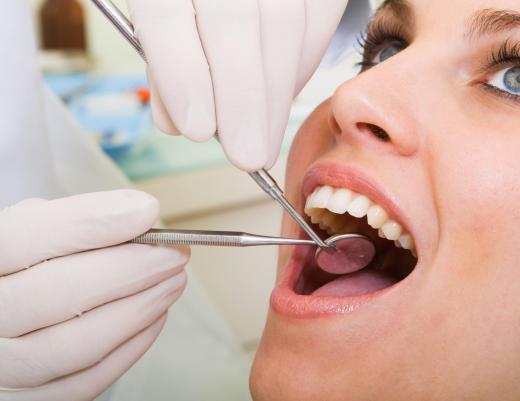 Like a general dentist, an endodontist must complete dental school, which usually takes about four years. In addition, he or she must also complete an additional two to three years of advanced specialized training, also called a residency. Dentists who complete this training may be awarded a graduate degree or be eligible for board certification, depending on the country in which they studied.
Why Go to an Endodontist?
Because basic training in endodontic procedures is provided in dental school, general dentists may — and often do — perform some root canals and other related treatments. A general dentist will usually examine a patient's damaged tooth to determine if the pulp might be infected or inflamed. Many tooth pulp infections may not be accompanied by obvious pain, so a dentist may have to look for other symptoms. Depending on the complexity of the issues involved and the practices of the dentist, a patient may be referred to an endodontist to receive treatment.
For example, a problem in a molar would typically be more difficult to treat than a front tooth, possibly requiring a specialist's care. In a basic root canal procedure, the endodontist will remove the inflamed or infected pulp tissue and nerve, shaping and cleaning the channel inside the root of the tooth. He or she then fills and seals the tooth, and may recommend that the patient return to his or her regular dentist to have the tooth crowned to protect it.
Root canals can be more complicated, however, especially when the pulp is badly infected. It can be extremely difficult to control the pain with local anesthetics if the gums are swollen and filled with pus, and it may be necessary to open the tooth and allow the pus to drain first. In some cases, only some of the pulp may be removed and the tooth temporarily filled to relieve the pain, with the patient coming back to complete the procedure on another day. Medications may also be inserted into the space within pulp space to treat any infection. An endodontist, who has experience treating a wider range of tooth problems, may be better able to recommend the best treatment than a general dentist.
Other Treatments
Endodontists may also perform other services besides root canals. They may be called upon to treat cracked and broken teeth, diagnose and treat problems with the roots, and replant or replace teeth have been knocked out or extracted. An endodontist with hospital privileges might be called in to examine patients with dental and facial trauma; opportunistic infections or inflammations of exposed tooth pulp may need immediate treatment before reconstructive work can begin.
Many times, these dental specialists are called on to retreat teeth that have had root canal procedures in the past. Some teeth have multiple, tiny branches off the main canals, and it can be extremely difficult to clean all of them out. In addition, an infection can set in or reoccur. Sometimes, an apicoectomy is required, which is the surgical removal of an infected root tip.
Benefits for the Patient and Dentist
There is financial as well as professional incentive for dentists to pursue this specialty. Being an endodontist allows a dentist to provide more services to his or her patients, and can be a revenue enhancer, since root canals cost considerably more than general dental services, such as filling cavities. Since endodontists have additional training and can perform more complicated treatments, they may be able to charge more generally for their services.
Going to an endodontist can also be of benefit to a patient, however, who may be able to get more advanced treatment of serious dental problems. Many people have a great deal of anxiety about seeing any dentist, and being able to go to someone familiar during a dental emergency can make the experience less stressful. If complex procedures are required, they may also take less time when performed by a specialist.


By: Andrea Danti

Endodontists specialize in conditions concerning the tooth pulp, shown here in red with blood vessels and nerves throughout.

By: michaeljung

Endodontist conducting an exam.

By: Igor Mojzes

A root canal involves the removal of damaged nerves and pulp from a patient's tooth.

By: Valeriy Velikov

An endodontist specializes in procedures concerning the inside of teeth.

By: Sherry Yates

Antibiotic injections may help prevent infection following a root canal.