An enema nozzle is the part of the enema apparatus that is inserted into the rectum. It is usually directly connected to the enema tubing, although it is almost always removable. Fluid flows through the tubing and into the enema nozzle, entering the body through the nozzle's opening. When the fluid is to be expelled, the nozzle is usually removed from the body, although there are specialized nozzles with multiple holes for the evacuation of fluids. Enema nozzles must be meticulously cleaned after every use so that users will not become ill from a dirty nozzle.
There are numerous enema nozzle designs, each with slightly different benefits. No matter the design, the nozzle must always be lubricated prior to insertion into the body for reasons of comfort and safety. An enema nozzle should never be rough or made of a breakable material. Any sharp edges could seriously injure the enema recipient and potentially even cause death.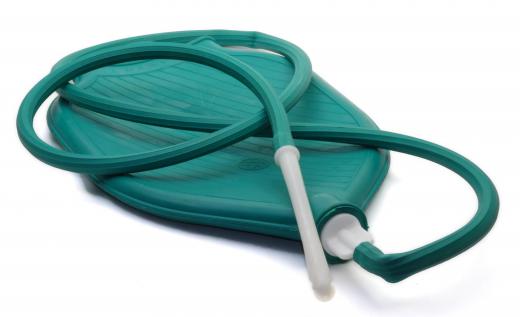 One of the simplest enema nozzle designs is a thin tip that serves only to move fluid into the rectum. It usually has only one hole, and may look like a tapered extension of the enema tubing. These may be made of many materials, although plastic is a popular choice. Frequently, these nozzles are disposable and changed often.
There are a variety of more complex enema nozzles. One popular design is the inflatable enema nozzle. These items slide easily into the anal cavity with lubrication, and then expand to a size that cannot be withdrawn. Inflation is usually accomplished by use of a hand held bulb. This design prevents the fluid inside the body from leaking out and allows the enema recipient to relax his or her muscles for the duration of the enema.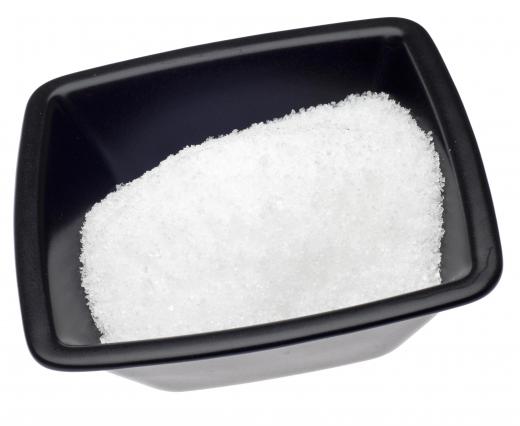 Another design involves two tubes in the nozzle. One introduces fluid into the body, and the other carries it away. Sometimes, this is called an "in/out nozzle." The tube that carries away waste is usually placed over a waste receptacle such as a toilet. This makes it possible to evacuate waste without removing the nozzle and to introduce additional fluid conveniently.
Enema nozzles are also made in a variety of shapes. Conical, balled, or phallic shapes are all popular designs for recreational enema nozzles. These objects are intended to provide additional stimulation during an enema, and are primarily used by people who enjoy enemas. The size, material, and color of enema nozzles are all highly variable, and many include additional features that relate to enjoyment rather than practical use.
AS FEATURED ON:
AS FEATURED ON:

By: Roman A. Kozlov

A reusable enema bag and nozzle.

By: Brooke Becker

Epsom salt, which can be used to make an enema.

By: stockshoppe

An enema nozzle is the part of an enema apparatus that is inserted into the rectum.

By: DimaP

Enemas may be administered in a medical setting.

By: Africa Studio

Many enema nozzles are simply a tapered extension of the bag or bulb.

By: Monkey Business

Consult a doctor or pharmacist before trying to use an enema at home.

By: Halfpoint

An enema may be administered to treat constipation.

By: auremar

Patients may be instructed to drink plenty of water prior to undergoing a colon cleanse.