An eye blister is a benign growth which can appear on the whites of the eyes or on the cornea itself. There are two main types of eye blister: pinguecula and pterygium. Both are similar, although pingueculas are often bigger and take longer to heal. It is unknown what exactly causes eye blisters, but they are most common in the elderly and generally occur in those who spend a lot of time outdoors without proper sun protection for the eyes.
The smallest type of eye blister, the pterygium, is generally painless and may come in small clumps of tiny clear lesions. They may occur almost anywhere on the eye, including the cornea, and can sometimes cause temporary vision changes. In most cases they are eventually absorbed back into the eye and cause no further damage. While not harmful, these blisters can be unsightly and may cause embarrassment for those who get them.
A larger eye blister, or pinguecula, may become very inflamed, red, sore, and gritty feeling. Dryness of the eye is common with these blisters. Eye drops are generally recommended to relieve discomfort until the blister heals. Sometimes medicated drops are used for extreme discomfort or swelling, and rarely, surgery may be needed to remove the blister. Surgical treatments are usually reserved for very severe cases, such as in cases where vision has been affected.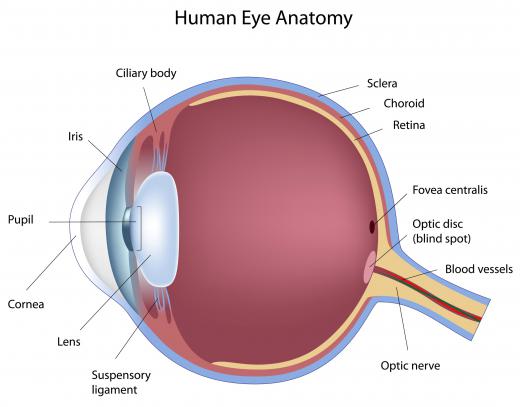 The primary causes of eye blisters are not entirely understood, but it is thought that they occur due to sun damage because those who spend large amounts of time outdoors are afflicted far more often than those who don't. Sometimes allergens like dust or pollen may also cause irritation and lead to an eye blister. The best method of prevention is to wear sunglasses when outside in bright light and to avoid wiping the eyes unless the hands are clean and free from dirt, pollen, or dust. Using an air purifier in the home may also be useful in preventing allergens.
Anyone can get an eye blister, and they are very common. That said, any unusual bump or sore in the eye should be properly examined by an optometrist to rule out the possibility of more serious conditions. Cancer of the eye is rare, but can occur and should be taken into consideration until a diagnosis is made. Other benign conditions are far more likely, although some may affect vision and must still be treated by a medical professional.
AS FEATURED ON:
AS FEATURED ON:

By: Remzi

An optometrist can rule out any serious condition of the eyes.

Anatomy of the human eye.

By: Thorsten

Wearing sunglasses that protect against UV rays may help prevent eye blisters.

By: liza5450

Eye drops can relieve discomfort until the blister heals.

By: Kasi Lodrigue

Allergens can cause eyes to become red and irritated and lead to an eye blister.