Corneal opacity is a vision problem in which the cornea, the clear lens that covers the eye, does not let light pass completely through it as a result of disease or injury. When people experience this condition, their vision becomes obscured or clouded, and total vision loss can eventually be experienced. It is important to receive treatment for the problem, and not to wait if vision problems are identified. Prompt treatment increases the chance of a positive outcome.
A number of things can lead to corneal opacity, including eye injuries, disease processes such as ocular herpes, measles, or conjunctivitis, a vitamin A deficiency, or chronic irritation from poorly fitted contact lenses. Sometimes it can have a gradual onset, with damage occurring over an extended period of time, so that patients do not necessarily recognize what is happening until it has progressed quite far. People with this condition may start to notice fogging or clouding in their vision, or damage to the cornea may be identified during a routine vision exam.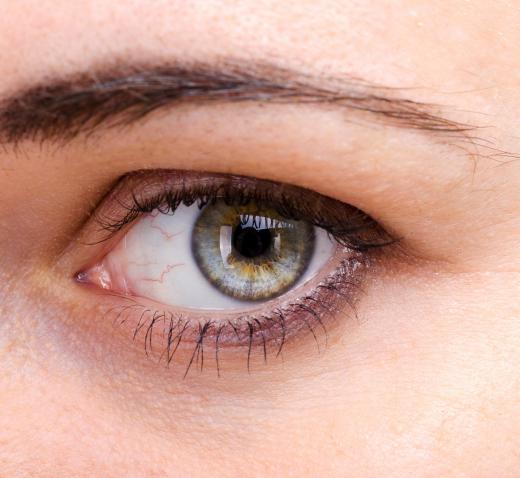 If corneal opacity is identified, the first step in treatment is determining what caused the damage to the cornea. If the cause is an underlying disease process or an unaddressed issue such as contacts being worn too long, the medical professional and patient can work together to resolve the cause and hopefully arrest the vision damage. The cornea may be able to recover and heal once the cause has been addressed and the eye has a chance to start healing without the risk of reinjury.
In cases where the cause appears to be an event in the past, such as an injury to the cornea that caused scarring, eye drops may be prescribed to ease irritation and promote healing. Sometimes, this is enough to resolve the opacity, but in other cases, surgery may be recommended if basic treatment measures do not work. Surgery for a full replacement of the cornea can also be performed in severe cases.
A cornea transplant to address corneal opacity is usually regarded as a treatment of last resort after other methods have failed. In a cornea transplant, the patient receives a donor cornea from a cadaver, and he or she typically experiences the return of clear vision. For patients who have dealt with corneal scarring as an ongoing problem over an extended period of time, receiving a transplant can feel like getting an entirely new eye as the scarred and fogged cornea is replaced.
AS FEATURED ON:
AS FEATURED ON:

By: Oleksii Sergieiev

Corneal opacity occurs when light does not pass properly through the cornea of the eye.

By: revers_jr

Prolonged contact lenses irritation can cause corneal opacity.

By: Igor Mojzes

Eye drops may help heal corneal opacity.

By: blueringmedia

The cornea allows light to enter the eye.

By: Stacy Barnett

Pink eye increase the likelihood of developing corneal opacity.

By: vladimirfloyd

Wearing contact lenses longer than prescribed or poorly fitting lenses can lead to corneal opacity.