What is Bilateral Foraminal Stenosis?
Bilateral foraminal stenosis is a spine condition that involves narrowing of the vertebral openings the nerves pass through. This narrowing causes pain in the spine and in the areas of the body served by the nerves involved. Treatment options for bilateral foraminal stenosis vary, depending on the patient and the severity of the narrowing, and can include surgery to open the openings back up in order to decompress the nerves so that they fit more comfortably. This surgery is performed by a spinal surgeon who specializes in such procedures.
Understanding spinal anatomy may help people visualize what happens with bilateral foraminal stenosis. Each vertebra has two openings, known as foramina, that provide a way for nerves to exit the spinal cord. A central cavity in the middle of the vertebra protects the spinal cord itself. Stenosis or narrowing usually occurs in only one foramen at a time, in unilateral foraminal stenosis. Sometimes the openings on both sides of the vertebra are involved and the patient has bilateral foraminal stenosis.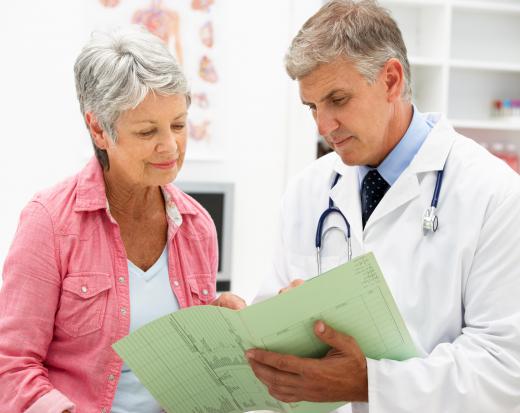 Some people are born with this condition. It can occur congenitally for genetic reasons or due to abnormalities in fetal development. More commonly, it is an acquired condition. Degenerative diseases of the spine, such as arthritis, lead to narrowing and compression and the patient develops bilateral foraminal stenosis.
Symptoms can vary, depending on the severity of the narrowing and the location. Patients may experience back pain and they can also develop nerve pain, tingling, numbness, and other peculiar sensations. Sometimes no symptoms at all are experienced and signs of narrowing are identified on medical imaging studies. When a patient presents with neurological symptoms, imaging of the spine is done to learn more about what is going on and a neurological examination is conducted to determine which nerves are affected.
Conservative treatments for bilateral foraminal stenosis include massage, medications to reduce inflammation, chiropractic adjustments to the back, and lifestyle adjustments. Sometimes, making changes in activity levels or using different methods of exercise will ensure that symptoms do not flare up. Patients may prefer this less invasive approach if it does not interfere with their quality of life. In other cases, decompression surgery will need to be performed to open up the foramina and free the nerves. When surgery is recommended, patients can discuss options with a surgeon, as well as the expected recovery time and other important information that may be helpful for the decision making process.
AS FEATURED ON:
AS FEATURED ON:

By: Monkey Business

In most cases, a doctor will only recommend surgery for a bilateral foraminal stenosis after other treatment options have failed.

By: Lisa F. Young

Chiropractic adjustments may be used in conjunction with prescription medications and other treatments to reduce the symptoms of bilateral foraminal stenosis.

By: pankajstock123

Bilaterial foraminal stenosis often causes pain in the spine.

By: JackF

Some patients may experience nerve pain, tingling and numbness as a result of bilateral foraminal stenosis.

By: Maurizio Milanesio

Medical imaging studies may help diagnose bilateral foraminal stenosis.