What Is Bladder Distension?
Bladder distension is a medical condition in which the bladder is stretched. This is usually due to urinary retention, in which the patient is unable to urinate, but it can be artificially induced by doctors in order to conduct tests for interstitial cystitis. These tests inflate the bladder with water so that the doctor can insert a cytoscope to view the patient's bladder wall. Bladder distension may be symptomatic of another medical condition and often presents with pain or discomfort and the urge to urinate, without the ability to do so. A patient will often complain of incontinence and leaking small amounts of urine, without relieving the urge to urinate.
The bladder is an elastic, muscular organ located on top of the pelvic floor that stores urine from the kidney until it is ready to be excreted through the urethra. Generally, the urge to urinate is experienced when the bladder is twenty-five percent full. When the bladder becomes full, the muscles in the bladder contract and a sphincter opens to let the urine vacate through the urethra and out of the body. If the bladder fails to let urine out, it can lead to pain, excessive stretching, incontinence, tearing, rupture, and the passage of urine back into the ureters and into the kidneys. The more severe complications can lead to sepsis and kidney failure, so bladder distension should be brought to immediate medical attention.
This condition can be caused by a variety of conditions and is more common in men than women. Neurological damage can cause the muscles to not react properly or at all. Detrusor sphincter dyssynergia (DSD), for example, results from spinal damage or a neurological disease, such as multiple sclerosis (MS), and causes the sphincter to not coordinate with the bladder's contractions. Bladder scarring from previous surgeries can also cause an inability to urinate. A blockage of the urethra such as from a cyst, an STD lesion (usually gonorrhea) in men, or a congenital defect, can also cause distension. It may also be a sign of prostate cancer or tumor. Urinary retention has been associated with pelvic infection, the use of psychoactive or anticholinergic drugs, and occasionally with forceful anal sex.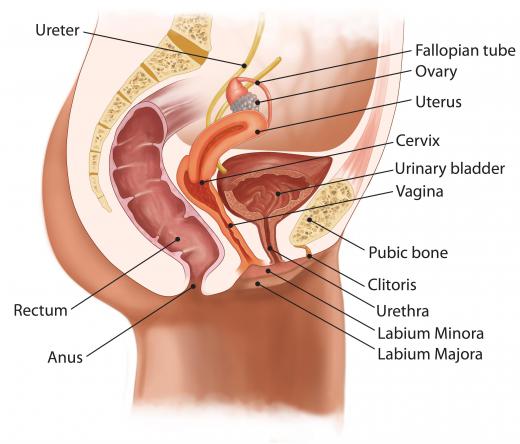 To test for bladder distension, a doctor or nurse will commonly ask the patient to lie on her back. The doctor or nurse will then tap on the lower abdomen, beginning at the symphysis pubis, the cartilaginous joint above the clitoris on women and above the penis on men, and continue to percuss the abdomen towards the umbilicus, or belly button. If the patient has a distended, urine-filled bladder, it will make a palpable dull sound. If the patient is not able to urinate after a period of time, the patient will likely be catheterized to relieve the bladder and prevent further complications such as shortness of breath, low blood pressure, high blood pressure, excessive sweating, pain, and tearing of the bladder.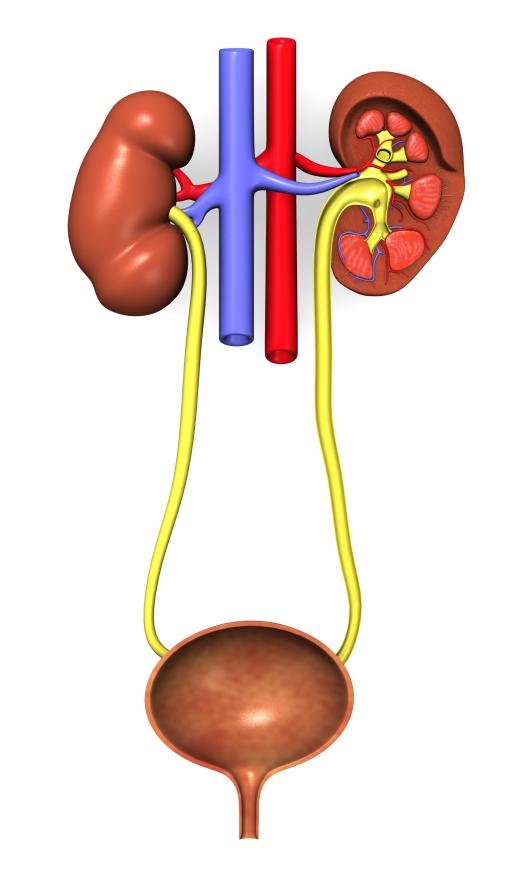 The catheter will drain urine from the bladder into a bag and the doctor will then test for the cause of the bladder distention. Common tests include blood tests to look for infection and prostate specific antigens, samples of vaginal or penis secretions to check for infection, samples of urine for signs of bladder irritation, stones, or infection, and rectal exams, to check the condition of the prostate. A doctor may also a conduct magnetic resonance imaging (MRI) scan or a computed tomography (CT) scan to determine whether the cause is neurological.
Bladder Distension and Incontinence
People are wary of discussing their urinary habits, even with their health care professionals. Lately, urinary incontinence has come into our consciousness, especially as the American population ages. Urinary incontinence issues represent a $16-billion annual expense.
Incomplete bladder vacating is a common problem. Bladders do not empty fully in some patients, for several reasons. Medical conditions present in the bladder and urethra can develop into impaired bladder concerns and bladder distension.
Treatments are available to combat underperforming bladders. Continued research explores different causes and therapies for the failing bladder. Damaged bladder issues like bladder distention or prolapsed bladder might develop as patients get older.
Preventing Bladder Distension, Incontinence, and Related Bladder Problems
Healthy Habits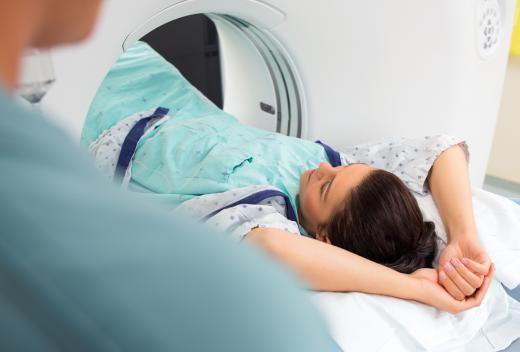 Healthy habits are the best tools to prevent and diminish future bladder conditions. While several health-related conditions can impact bladder functions, therapeutic measures can help you avoid or postpone urinary retention and certain bladder surgeries.
Cultivating healthy bathroom habits is easy. When your bladder signals the urge to go, you should listen and empty your bladder. Unfortunately, many people have adopted poor bladder habits over time. We train our bodies at a young age to only use restrooms during recess or lunch breaks.
Keeping a schedule is a great way to develop healthy bathroom habits. Empty your bladder as soon as you get up and before you go to bed. It's normal to urinate six to eight times daily.
The bladder is like a baggie that can hold approximately two cups of fluid (slightly more while sleeping). Holding on to urine in your bladder can cause repeated UTIs (urinary tract infections) and bladder stones, and this can leading to urinary retention problems.
Understand Your Body and What Might Cause Bladder Retention
It's not always convenient to urinate when your body signals you to do so. However, if you constantly stress your bladder, you might stretch bladder muscle tissue. Noticing the frequency of urination habits and changing those habits might alert you to early signs that you are not emptying your bladder fully. 
These changes may indicate urinary retention.
Our lives and jobs sometimes dictate when we can urinate. People who work in specific industries do not always have access to bathroom facilities. Women's bladders can be affected during pregnancy.
Certain health conditions can also impact your urinary habits. Surgery or a severe back injury significantly influences the frequency of urinary retention. Symptoms might be present immediately or develop as a patient ages.
Discussing early signs of urinary retention might help prevent or stop the condition from progressing.
Follow Doctor's Orders to Prevent Bladder Distension
Pharmacology developers design medication to treat a health condition with specific doses of prescription drugs. If your physician prescribes a specific dosage, follow those directions. 
If you are a patient with prostate cancer (such as benign prostatic hyperplasia), you must take your medicine as prescribed. You should avoid bladder retention-causing medications like decongestants and non-steroidal anti-inflammatory drugs. Consult your pharmacist for further information.
Introduce Dietary and Exercise Routines
We might not associate diet with our bladder habits, but constipation from poor diets can cause urinary retention. Consuming the recommended intake of dietary fiber and healthy fluids will promote bladder health.
Incorporating physical activity into your daily life can improve bowel and bladder function. Practicing pelvic floor exercises strengthens the pelvic floor muscles. Follow a Kegel exercise program if you think you are susceptible to bladder issues. 
Food Sources That Benefit or Irritate the Bladder
What we drink is an excellent way to promote bladder health, as is pacing our fluid intake — drinking one cup between meals and two cups with each meal.
Drinking more fluids in the morning and early afternoon is a great way to keep your bladder flushed and prevent nighttime trips to the bathroom.
For a healthy bladder, increase your consumption of:
Pears
Bananas
Green beans
Types of squash like acorn, butternut, or spaghetti
Grains like quinoa, rice, and oats
Quality bread
Lean proteins
Nuts like almonds, peanuts, cashews
Potatoes and yams
Eggs
A healthy balance between too little and too much food and liquid is essential. Liquids flush body waste through our system as urine. Healthy urine is almost clean with little odor. Concentrated urine from lack of fluid is dark and odorous.
Sensitive bladders might benefit if you avoid coffee, tea, carbonated drinks, alcohol, highly acidic fruit drinks, tomato-based foods, spicy foods, artificial sweeteners, and chocolate.
Before you despair, know that reducing your consumption of these products might benefit your bladder.
AS FEATURED ON:
AS FEATURED ON:

By: Gabriel Blaj

Testing for bladder distension commonly involves a doctor or nurse tapping on the lower abdomen.

By: kocakayaali

A cutaway of a female body showing the bladder in dark pink.

By: 3drenderings

The human urinary tract, including the bladder in pink at the bottom.

By: Von Schonertagen

One common test to check for bladder distention is a urine screening.

By: Tyler Olson

Doctors may perform a CT scan in order to determine bladder distension is neurological.

By: Dario Lo Presti

A catheter may be used to test for the cause of bladder distention.

By: Budimir Jevtic

Bladder distention may be symptomatic of another medical condition.