Body Worlds is a traveling exhibit of plastinated human specimens created by German anatomist Gunther von Hagens. Plastination, a technique patented by von Hagens in the late 1970s, creates durable, life-like anatomical specimens by replacing the fat and water in human body parts with plastic. Body Worlds contains unusual and artistic anatomical models in addition to more straightforward displays, and though the exhibit has met with a great deal of controversy and even outrage, it has also enjoyed continued success. As a result of the legal persecution von Hagens suffered in Germany over the first Body Worlds tour, subsequent tours have been confined to the United States and Canada.
The first Body Worlds exhibit opened in Tokyo, Japan in 1995 and traveled throughout Asia, Europe, and the United States. Body Worlds 2, featuring a new collection of specimens, premiered in Los Angeles, California in January 2005, and Body Worlds 3 opened in Houston, Texas early in 2006. All three Body Worlds exhibits continue to tour in the United States and Canada. In addition to displays depicting normal anatomical structures and function, Body Worlds features specimens with pathologies, such as smoker's lung, and other medical situations, such as prosthetic limbs.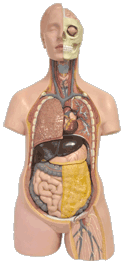 Body Worlds is controversial for a number of reasons. First, the exhibit was initially met with concern over whether or not the people whose bodies were displayed had given their consent. Von Hagens claimed that all specimens were voluntarily donated, and investigation into the matter confirmed his claim. Some critics were not satisfied, however, especially regarding the display of fetal specimens, who could not have consented. However, in such cases, the parents' consent was obtained.
Other plastination exhibits not affiliated with von Hagens or Body Worlds have also come under criticism for using bodies without the informed consent of the donors. The models in some exhibits, prepared in China, are controversially said to use the remains of executed criminals.
Body Worlds also met with criticism over the elaborately artistic nature of many of the displays, which some feel are exploitative, disrespectful, and unscientific. However, artistic representations have long been employed in the field of anatomy, and in fact some of von Hagens' most controversial exhibits, such as the "Skin Man" who carries his own skin, are directly based on medieval anatomical drawings. Body Worlds entertains as it informs, and some bodies are posed in certain acts in order to illustrate the function of muscles and to allow viewers to relate what they see to their own bodies.
Another criticism of Body Worlds is that it reinforces gender stereotypes. While many male specimens are posed in athletic compositions, displays of female specimens in the original exhibit included a mother, a ballerina, and a figure whose feet had been shaped into stiletto heels. In addition, the male specimens far outnumbered the females. In response to this criticism, von Hagens included more female specimens in later Body Worlds exhibits.
Body Worlds is a fascinating and informative exhibit, and the process of plastination allows people to discover human anatomy in ways not possible through the drawings, wax figures, and bottled specimens of earlier eras. The most recent incarnation, Body Worlds 3, focuses on medieval inspired compositions. Body Worlds is a must for anyone interested in anatomy or medicine.
AS FEATURED ON:
AS FEATURED ON:

Anatomical model of the human body