What is Clinical Anatomy?
Clinical anatomy is the study of human anatomy as it relates to clinical practice. Instead of being designed to allow someone to acquire general anatomical knowledge, clinical anatomy focuses on specific structures and issues which people may encounter in a clinical setting. Many physicians, especially surgeons, routinely study clinical anatomy and attend refresher courses so that their anatomy skills remain high, and so that they can familiarize themselves with new techniques in their fields.
The general study of human anatomy can be very beneficial for many people who work in the medical profession, as it allows them to explore the structures of the body and the way in which the body's systems interconnect with each other. Many medical schools require their students to take a general anatomy course in their first year, and medical students are routinely tested on anatomical knowledge.
In clinical anatomy, medical practitioners take general anatomy skills and apply them to specific clinical situations. For example, an ophthalmologist relies on his or her knowledge of the anatomy of the eye to diagnose and treat patients, and he or she may use photographs, anatomical samples, and other means to stay familiar with the structures of the eye. Knowledge of clinical anatomy allows someone to take note of an anatomical abnormality, and it is used as a guide for all sorts of medical procedures, from heart valve replacement to splinting a broken bone.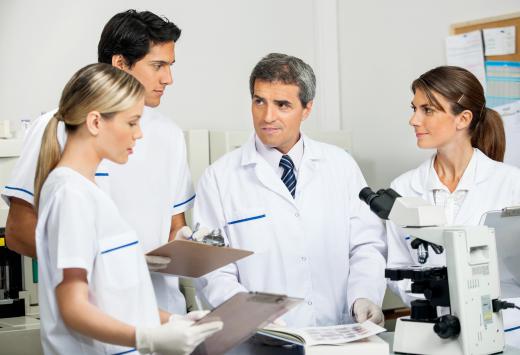 Many medical practitioners supplement their general anatomy coursework with specific clinical anatomy classes as their educations progress and they pick specialties. Medical schools and research facilities also hold periodic continuing education classes for qualified medical professionals who want an opportunity to work in an anatomy lab and to explore anatomy with their clinical experiences in mind. For example, surgeons who specialize in knee reconstructions might periodically dissect cadaver knees to remind themselves of all of the structures in the knee, and to familiarize themselves with the range of variations which can be seen in the human knee.
Professional organizations for physicians often have a clinical anatomy section which publishes a journal, holds classes, and provides other opportunities for physicians to brush up on anatomy which relates to their specialty. These organizations may also conduct research which is designed to further knowledge of clinical anatomy, and to develop new techniques, treatments, and protocols in light of this increased knowledge. The long-term study of clinical anatomy can also provide revealing information about trends in human health, such as the buildups of particulates noted in the lungs of many urban residents.
AS FEATURED ON:
AS FEATURED ON:

By: probiotic

Medical doctors and other health care workers study -- and routinely review -- clinical anatomy.

By: Tyler Olson

Many medical students will take a general anatomy course their first year and be tested on anatomy frequently.

By: sepy

Many physicians routinely study clinical anatomy and attend refresher courses.

By: Monkey Business

An ophthalmologist must be familiar with the clinical anatomy of the eye in order to spot problems during exams.

By: tsuneomp

Medical practitioners take general anatomy skills, such as those that relate to the muscular system, and apply them to specific clinical situations like sports or work-related injuries.

By: Remains

Qualified medical professionals may use cadavers to hone the skills that they've already acquired.