What is Cardiac Muscle Tissue?
Cardiac muscle tissue is a highly specialized type of muscle found only in the walls of the heart. This muscle type has a number of unique properties that allow it to regularly contract in order to force the heart to beat. On a microscopic level, it has some distinct features that make it easy to identify and allow an examiner to differentiate it from other types of muscles.
The body also includes voluntary or skeletal muscle that connects to the skeleton to allow it to articulate and move, along with involuntary or smooth muscle like that found in the bowels. Both types of muscle respond to signals from the nerves. People can voluntarily initiate movements of the skeletal muscle, but the smooth muscle is not under conscious control.
Cardiac muscle tissue contains a blend of characteristics associated with both tissues. Like skeletal muscles, it has a striated appearance and the cells can have more than one nucleus. As with smooth muscle tissue, the cardiac muscle tissue is not under voluntary control. Unlike both other types of muscles, input from the nerves is not needed to stimulate muscle contractions. The contractions of the cardiac muscles are mediated by specialized pacemaker cells.
When viewed under a microscope, this tissue's highly branched appearance becomes visible. In addition, markings known as intercalated discs can be seen where individual muscle cells join together. These discs facilitate rapid communication, allowing the heart to coordinate muscular contractions. This type of muscle tissue is also designed for very high endurance and should not tire like other muscles.
The heart muscle is famous for being extremely tough, a consequence of the demands placed on this tissue type. The intertwined network of chains of muscle cells makes the heart resilient and very sturdy. While the heartbeat in the chest may feel relatively faint unless someone is under stress or working out, the heart is actually a very active organ, as can be seen in videos of surgeries involving the heart.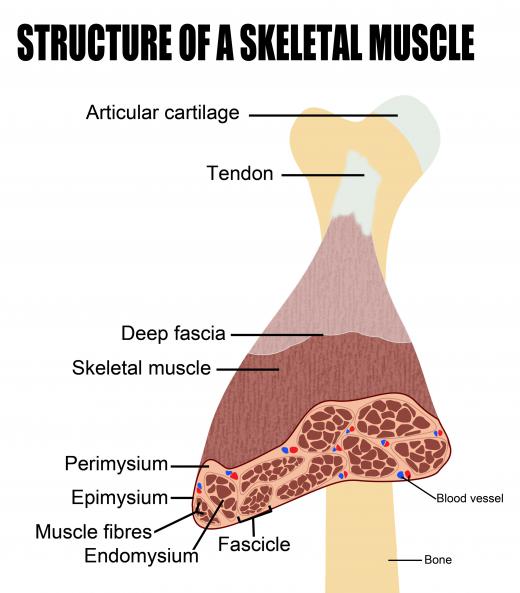 Historically, it was believed that cardiac muscle tissue was not capable of renewing itself like many other types of tissue are. Research has since demonstrated that it actually does, but at a very slow rate. Starting at around age 20, approximately one percent of the cardiac muscle tissue is replaced every year. Understanding the inner workings of this type of muscle tissue is important for people interested in cardiac conditions such as cardiomyopathy.
AS FEATURED ON:
AS FEATURED ON:

By: blueringmedia

Only the walls of the heart have cardiac muscle tissue.

By: designua

Cardiac muscle tissue contains characteristics associated with both smooth and skeletal muscle tissue.

By: CLIPAREA.com

Cardiac muscle tissue is what forces the heart to beat.

By: Balint Radu

Skeletal muscle connects to the skeleton and allows it to move.