What Is Cellulitis of the Legs?
Cellulitis of the legs is a skin infection caused by bacteria. While it does most commonly infect the legs, a patient may also have cellulitis on his arms or head. Patients typically experience pain and swelling in their legs after the bacteria infects them through a scrape or a cut in the skin. They should seek medical attention as soon as possible, as this infection can cause potentially life-threatening complications. Treatment for cellulitis of the legs includes taking an antibiotic.
Some people may be at a higher risk of developing cellulitis of the legs than others. Those with a weakened immune system, which can be caused by the use of certain medications, are less likely to fight off the bacteria. People with diabetes, chickenpox, or any other infection may also contract cellulitis more readily. The elderly may be more prone to this infection due to poor blood circulation. In addition, those with skin conditions, such as a fungal infection, shingles, or athlete's foot, are more apt to develop breaks in the skin, which may become infected.
The specific cause of cellulitis of the legs is most often one or two types of bacteria, called staphylococcus and streptococcus. Sometimes, the staphylococcus bacteria is an antibiotic-resistant strain, called methicillin-resistant staphylococcus aureus (MRSA). This bacteria enters the body through an abrasion or dry, flaky skin. Sometimes, an insect or spider bite may result in a cellulitis infection. Those who suffer from dry or abraded skin should be aware of the typical symptoms of cellulitis.
People who notice redness, tenderness, and warmth on the legs may have cellulitis. Other symptoms often include pain and swelling, and some patients may suffer from a fever. The affected area can spread and may develop small, red spots, accompanied by blisters that can burst. Those who notice any possible symptoms of cellulitis should seek emergency medical help.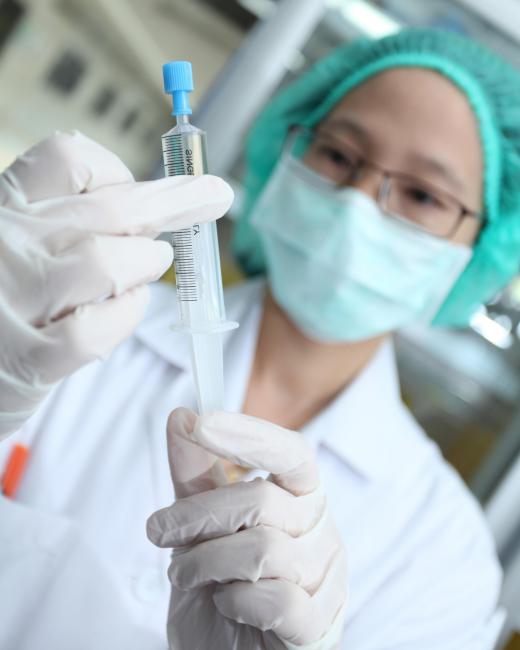 After a doctor diagnoses a patient with cellulitis, he will usually prescribe an oral antibiotic which may be taken for up to two weeks. It is essential for the patient to follow dosing instructions carefully, and the full course of antibiotics must be completed, even if the patient's symptoms abate. Patients should schedule a follow-up appointment after about two to three days to check on their response to the medication. Those who do not respond well to antibiotics may need to be hospitalized and given antibiotics intravenously, or through a vein.
When a patient does not get medical help quickly enough, serious complications may develop from cellulitis of the legs. The infection can penetrate beyond the skin to the underlying tissues. It can enter the bloodstream and infect the lymph nodes, which may cause chronic swelling. Rarely, patients may suffer from necrotizing fasciitis, which is a deep-layer infection that can cause systemic shock and death if it is not treated very quickly.
What Causes Cellulitis in Legs?
When bacteria like streptococcus or staphylococcus get into your body through a skin wound, you can develop cellulitis, according to John Hopkins Medicine. These common bacteria can also lead to other health problems, like pimples, meningitis, pneumonia or strep throat. People can often have both living on their skin, mouths and noses without ever developing cellulitis or any other disease.
Cellulitis will only develop if damage to the outer layers of the skin allows the bacteria to reach the dermis layer of the skin or the tissues below. Many types of injuries can break the skin and cause a cellulitis infection, but other sources include abrasions, flaky or cracked skin from dryness or insect, spider or animal bites.
What Does Cellulitis Look Like?

People who have had a skin break or dry, flaky skin should be aware of the following cellulitis symptoms:
Contusions or bruises 
Vesicles, bulla or other blisters 
Pain and tenderness 
Swelling
Redness
Heat coming from the affected area 
Other symptoms, like fever, headache, chills and weakness, may not be as obvious since they do not appear around the infection site. Symptoms that could indicate a severe infection and should be treated as an emergency include a large, inflamed area of skin; numbness, tingling or other changes in extremities; black coloration of the skin; or swelling around eyes or ears.
If these symptoms are occurring or if you are in one of the groups previously listed as higher risk, then you should seek medical advice as soon as possible to treat the infection properly.
Is Cellulitis Related to Cellulite?
It's important to note that cellulitis should not be confused with similar-sounding cellulite. Although both are skin conditions, the two are not related. Mostly found on the thighs and buttocks, cellulite is a painless fat deposit under the skin that makes it look lumpy and dimpled. Doctors diagnose more than 3 million cases of it per year, according to the Mayo Clinic, making it a very common condition. Exercise, proper diet, laser treatment or retinol creams can usually treat this problem.
How To Get Rid of Cellulitis on Legs

The most common treatment for cellulitis is oral antibiotics under the supervision of a medical professional. More problematic cases may need intramuscular or intravenous antibiotics, dressings on the infection site, rest, topical antibiotics or pain medicine. The most severe cases are treated with surgery and may require hospitalization to address a stronger or more widespread infection. It is important to seek treatment quickly to avoid hospitalization, surgery, major tissue and organ damage, shock or even death.
Should You Wrap a Leg with Cellulitis?

According to the New England Journal of medicine, compression socks can help reduce cellulitis reinfections, but should you wrap a leg with cellulitis as a part of your treatment? The European Journal of Dermatology has shown that compression bandaging or wrapping the lower leg can be a positive supplemental treatment when used alongside traditional antibiotic therapy. However, this decision should not be made without first discussing current treatment and future treatment plans with medical providers who are actively working to stop the infection. While it would be unlikely to cause damage, there could be a reason why your care team may want to hold off or avoid compression treatment for particular cases of cellulitis that need further examination.
How Can Cellulitis Be Prevented?

Unfortunately, the bacteria that cause cellulitis in the legs is abundant, so it's nearly impossible to limit your exposure to them. However, there are some steps that you can take to prevent developing a cellulitis infection:
Prioritize hygiene: Frequent handwashing and regular bathing are critical.
Stay hydrated: Use lotion or body oil to moisturize your skin.
Use personal protective equipment: Wear gloves and protective shoes when needed to prevent cuts and scrapes.
Keep your nails trimmed: Avoid dirt buildup under your nails by regularly cutting them.
Above all, monitor your skin daily for signs of infection or injury. The earlier you can catch it and report to the doctor, the better.
These steps are the most effective at preventing cellulitis from developing, but there is another option for people who suffer from chronic cellulitis issues. The regular use of compression socks and wrapping the lower legs was shown to reduce the risk of future cellulitis by 77%, according to the New England Journal of Medicine. While this is unnecessary for most healthy adults, older adults and people with diabetes and weakened immune systems could benefit from compression sock use as a preventative with the guidance of their doctor.
AS FEATURED ON:
AS FEATURED ON:

By: Mercedes Fittipaldi

People with diabetes may be a higher risk for developing cellulitis of the legs as a result of poor blood circulation.

By: perfectmatch

The elderly may be more prone to cellulitis due to poor blood circulation.

By: tawesit

Patients with cellulitis may be hospitalized in order to receive intravenous doses of antibiotics.

By: Angel Simon

Skin affected by shingles is more prone to infection.

By: Dirima

Patients suffering from cellulitis of the legs may experience leg pain and swelling.

By: Brian Jackson

Treatment for cellulitis includes antibiotics.

By: Dmitry Lobanov

Tenderness and warmth in the legs may be signs of cellulitis.

By: Jaren Wicklund

People with chickenpox may contract cellulitis more readily.