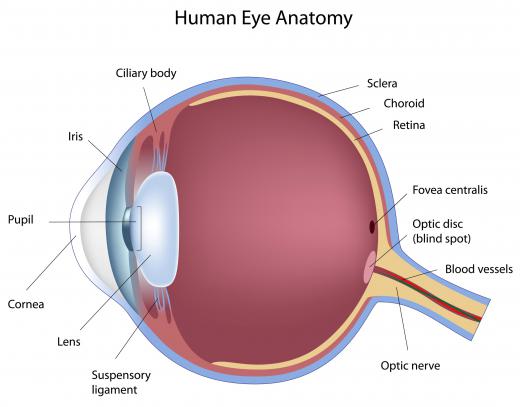 Cornea guttata is an eye condition in which collagen cells collect and grow abnormally at the back of the eye, forming small lumps — known as "guttata" — that can be painful and may also cause a number of vision problems, including light transmission issues and blurriness. The condition can happen for a number of reasons, but eye injury and cataract surgery are some of the most common; a disorder known as Fuch's dystrophy may also be to blame. In most cases eye specialists can remove the buildups and restore a person's vision, but it's not always possible to prevent more growths from appearing. People who are predisposed often need regular treatment and are sometimes prescribed drugs to keep the condition from worsening.
Cornea Basics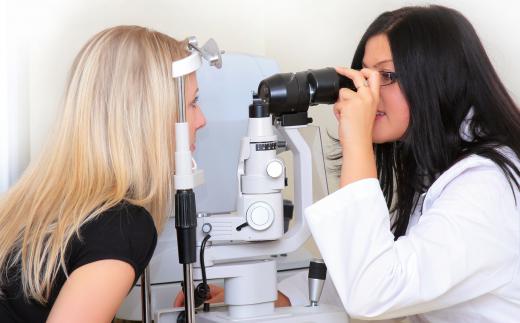 The cornea sits in what is basically the front-center of the human eye, and is responsible for filtering light. It is translucent and covers the colored part of the eye, known as the iris, and the black part of the eye, which is the pupil. At the edges of the cornea, the translucency changes into the white sclera, which protects the rest of the eyeball from outside elements.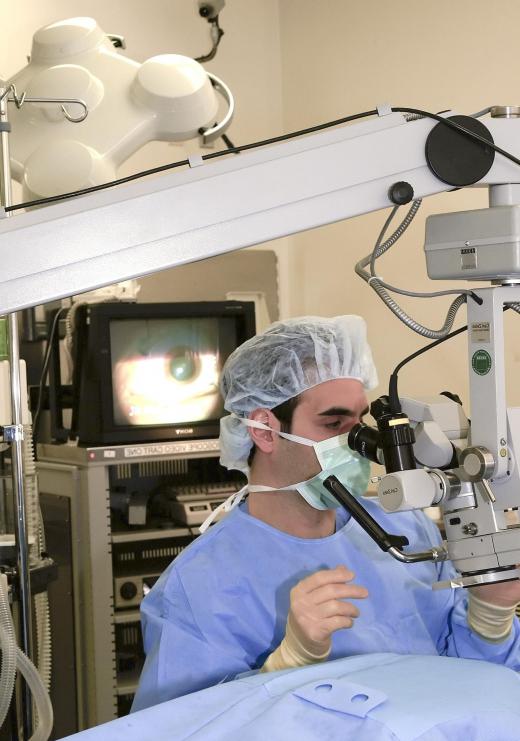 A normal cornea is rather complex. The outer edge contains the epithelial cells, which in turn covers the Bowman's layer, which is made of collagen. Inside the thin Bowman's layer is a thick layer called the stroma, which is dense with collagen fibers. Under this is the Descemet's layer, which is also a collagen layer. The lowest layer of the cornea is the endothelium, which is made up of endothelial cells that move excess fluid out of the stroma and help keep the cornea transparent. When guttata happen, they typically happen here.
Why Buildups Happen
Collagen usually accumulates at the back of the cornea when the endothelial cells do not grow properly. Sometimes they may reproduce on top of each other, or they may die off prematurely; in either event, the result it often deep "gaps" or ridges of collagen that form bumps. Most of the time this happens as a result of some sort of genetic defect, but irritation from long-term contact lens use and normal aging can also be factors. At first the buildups aren't usually a problem, and the eye can function just fine. After decades of growth, though, people often start experiencing problems.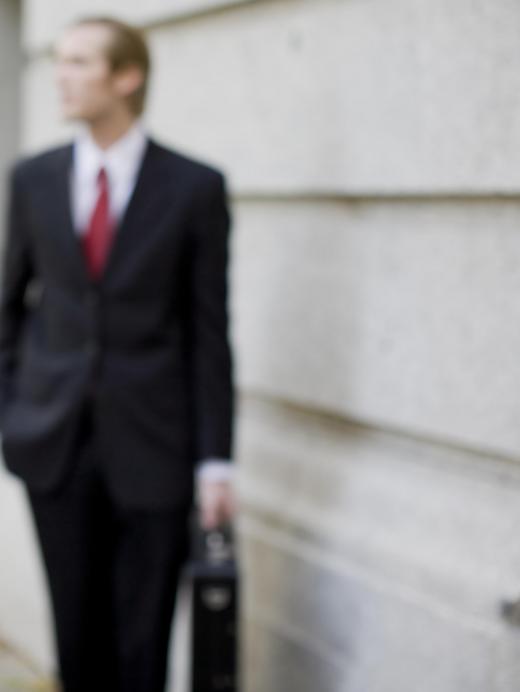 Collagen problems might also happen as a result of eye trauma or injury. Improper healing from cataract surgery or laser vision correction can cause bumps to form, particularly if cuts went too far or too deep. The eye sometimes overcorrects in its own healing process, and in these cases the guttata may arise much more quickly, often within a few months of the triggering event.
Signs and Symptoms
People don't normally notice collagen bumps until they have a vision problem. Patients experience a misty appearance to their sight, which can get worse over time; blurriness is also common, particularly in the mornings or just after waking. In most cases the eyes look just fine, and diagnosis generally requires a professional assessment. Opthalmologists can usually spot these abnormalities pretty quickly. In most cases they appear as dark spots when viewing the eyeballs though a special tool known as a slit lamp.
Treatment
The goal of most cornea guttata treatment is to restore a person's vision, though it isn't always possible to completely cure the problem — sometimes simply removing the irritant, like a contact lens, will do the trick but not always. If collagen buildup has been happening for years on end it is often very difficult to reverse. People can cope by using saline eye drops or other lubricating measures, and conversely drying the surface of the cornea, often with warm air, can also be a means of temporary relief.
Prescription eye drops with drugs designed to dissolve the guttata can be helpful in very serious situations, but if these don't work people may need surgery. Eye experts usually only recommend eye surgery for people whose vision is seriously impaired, though. It carries its own set of risks and is usually quite invasive.
When to Get Help
Not all blurred or misty vision is caused by cornea guttata, but when it is, the earlier the condition is caught the easier it often is to treat. Eye care professionals usually recommend that anyone who is experiencing vision problems or eye pain make an appointment for an evaluation to rule out this and other related conditions. Regular, preventative eye care can also go a long way towards reducing the risk of future problems, too.
What Are the Symptoms of Cornea Guttata?
There are several symptoms of cornea guttata that the sufferer is likely to experience. The most common signs are:
Vision that appears misty or blurry, especially in the morning
Seeing halos around light sources, sometimes accompanied by pain or discomfort
Pain in your eye
Feeling as if there are foreign bodies in your eye
While blurry or misty vision may not necessarily be caused by cornea guttata, it is best to have your eyes checked by a doctor to be sure.
What Causes Cornea Guttata?
Cornea guttata happens when endothelial cells fail to properly grow which causes gaps or mounds of collagen to form in the eye. This results in a loss of corneal transparency. The condition can be caused by genetics, extensive irritation from contact lens use, and aging. Eye injury can also cause the condition, as can failures to heal after undergoing laser or cataract surgery.
Women are more likely to suffer from cornea guttata than men.
How Is Cornea Guttata Treated?
If the condition is caused by irritation from the use of contact lenses, it may be possible to treat the condition simply by removing the contact lens. Saline eye drops or lubrication can also help with the symptoms. Occasionally, the opposite works: Drying the eye with warm air, such as from a hair dryer, may relieve symptoms. If the condition is advanced, special eye drops available by prescription might be able to dissolve the guttata.
If none of these treatments work, surgery can be used as a last resort. However, this type of surgery is highly invasive and can be risky. Surgery is only recommended if symptoms are severe and other treatments have failed.
How Is Cornea Guttata Related to Fuchs' Dystrophy?
Cornea guttata may be the first stage of Fuchs' dystrophy. This condition occurs when the cornea becomes thick due to fluid buildup. Both eyes are typically affected. Typically, the disease begins in the 30s and 40s, but symptoms may not be noticeable until decades later.
How Is Fuchs' Dystrophy Diagnosed?
A routine eye exam can typically detect Fuchs' dystrophy. Several tests can help diagnose the condition.
Confocal/specular microscopy involves using a special microscope to measure the shape, number, and density of endothelial cells in the eye by taking a photograph of the corneal endothelium.
Pachymetry is a method that detects the thickening of the cornea. A tool called a pachymeter is used to accomplish this.
Slit-lamp microscopy is a way to examine the structure of the eye with high magnification. A slit lamp uses a beam of light that can be adjusted to form a full circle or a thin slit which allows the examiner to view various parts of the eye with clarity.
How Is Fuchs' Dystrophy Treated?
While the aforementioned cornea guttata treatments can help in the initial stages of the disease, if the condition advances into Fuchs' dystrophy, surgery in the form of corneal transplantation is generally required. This surgery is referred to as a keratoplasty.
A keratoplasty involves replacing a damaged cornea with a functioning one typically obtained from a cadaver donor. Parts of the cornea may be replaced, but the entire cornea can also be exchanged. Partial transplantation is usually preferred because it is a less invasive procedure than a full replacement.
Keratoplasties are usually safe and are typically performed about 40,000 times per year. However, you may experience problems after the procedure. Bleeding in the eye may result, and cataracts can occasionally form. Eye inflammation, corneal or retinal detachment, refractive errors, glaucoma, and infections are also possible complications of a keratoplasty.


The cornea is the multi-layered clear protective structure at the front of the eye.

By: daniel rajszczak

An eye doctor can detect cornea guttata.

By: Peter Orsaeo Sr

Improper healing from cataract surgery can cause cornea guttata to form.

By: Ana Blazic Pavlovic

Long-term contact lens use can sometimes cause cornea guttata.

By: bellemedia

Cornea guttata can cause blurry or misty vision in addition to other visual disturbances.