What is Ethinyl Estradiol?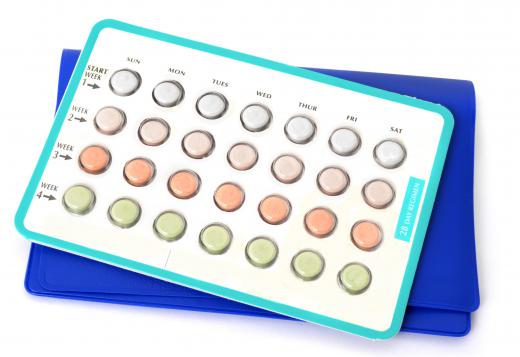 Ethinyl estradiol, also known as ethinylestradiol or EE, is a synthetic hormone which is primarily used in hormonal contraceptives, although it has several other medical uses. It is among a class of hormones known as estrogens, and like other estrogen hormones, it can play a role in the reproductive cycle of women.
The most common use for ethinyl estradiol is in hormonal birth control, usually in the form of a combination medication which includes a form of progesterone or progestin. The use of ethinyl estradiol in birth control medications allows for low dosages, so that patients can receive the benefits without as many of the harmful side effects. Patients can receive the medication in oral form, or in the form of a patch, gel, or insertable medication which is delivered directly to the vagina.
In addition to preventing pregnancy, ethinyl estradiol also reduces the risk of osteoporosis and breast cancer, and it can be used to regulate menstrual cycles. Women who experience painful, irregular, or difficult menstruation can use ethinyl estradiol to manage their periods. Should women using the drug want to become pregnant, they will need to stop taking it for at least a month to allow the hormones to clear their bodies.
This drug is also used in hormone replacement therapies which are utilized to treat menopausal women. Taking ethinyl estradiol and other medications can reduce the symptoms of menopause and ease the transition, keeping women more comfortable. Women undergoing hormone replacement therapy for menopause will need careful medical supervision to ensure that the doses are correct, and that no problems are developing.
There are some cases in which taking ethinyl estradiol is contraindicated. People with clotting disorders can be at risk of complications on ethinyl estradiol, especially if they smoke, and the drug can also interact poorly with some cancers and other medical conditions. For this reason, it is important to discuss all preexisting conditions with a doctor when requesting a prescription for birth control, to ensure that the doctor selects the most appropriate drug.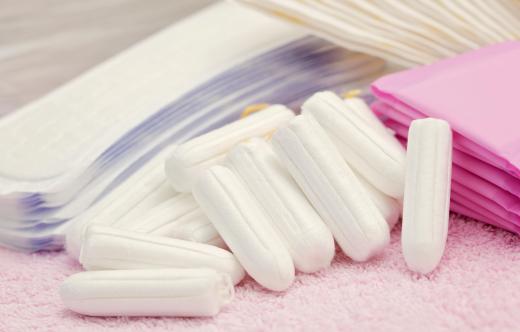 The liver metabolizes ethinyl estradiol very rapidly, which can be a concern when dosages are calculated. It is critical to take the drug at the same time very day, or to use a slow-release delivery method such as the birth control patch which will slowly deliver doses to the body over time. Failure to follow the usage directions can make birth control less effective, because it breaks down very quickly in the body.


By: Kimberly Reinick

Ethinyl estradiol is a synthetic hormone found in many hormonal contraceptives.

By: peterjunaidy

Ethinyl estradiol can reduce the risk of osteoporosis.

By: logos2012

The most common use for ethinyl estradiol is in hormonal birth control, usually in the form of progesterone.

By: rob3000

Taking ethinyl estradiol may help to reduce the symptoms of menopause.

By: matka_Wariatka

Etinyl estradiol may be used to regulate menstrual cycles.