What is Facial Cellulitis?
Cellulitis is a type of skin infection caused by bacteria. Facial cellulitis means that the infection is located on or near the patient's face. The infection may affect either the surface of the skin, or it may spread to the deeper tissues and the bloodstream. Every type of cellulitis is potentially dangerous and should be treated as soon as possible.
Untreated cellulitis may be life-threatening. If the bacteria has spread to deeper tissue layers and the bloodstream, it may damage the lymphatic system, which is essential for the proper function of the immune system. Some patients may also develop inflammation of the veins, abscesses, and gangrene. Gangrene, which is severe damage to the tissues, may necessitate amputation.
Patients who notice possible signs of facial cellulitis should immediately see a doctor. These can include pain and tenderness, as well as a sudden skin rash that rapidly spreads. The facial area may also develop redness and swelling, and will often appear glossy. Occasionally, this condition can result in small blisters that are filled with fluid. Facial cellulitis may cause non-localized symptoms as well, such as muscle aches, fever, and chills.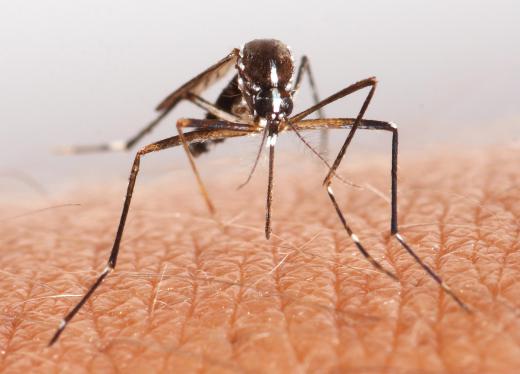 This condition may occur for the same reasons as many other skin infections. Bacteria can enter through breaks in the skin. Dry, flaky skin may be especially unable to prevent the entrance of such germs. Facial cellulitis can also be transmitted through the bite of an insect, or it may appear in an area where a patient has recently had surgery or an injury. The types of bacteria that most often cause facial cellulitis are staphylococcus and streptococcus.
Some patients may be more at risk for developing cellulitis. People who suffer from lymphedema, or chronic swelling, may experience cracks in the skin layers. Those who engage in intravenous drug use also have a higher risk of any type of skin infection. Other skin conditions may also make the development of cellulitis more probable, such as athlete's foot, eczema, and shingles. Additionally, a weakened immune system may leave a patient more vulnerable to cellulitis.
The standard treatment for facial cellulitis is a course of antibiotics. Patients should inform their doctor if they are allergic to any medications. For severe cases, or when a patient fails to recover, hospitalization may be necessary. In these circumstances, the doctor will usually administer antibiotics intravenously. To help relieve discomfort, patients may apply a dampened sterile bandage, like a compress, to the affected facial area.
AS FEATURED ON:
AS FEATURED ON:

By: Photographee.eu

Fever and chills may accompany facial cellulitis.

By: demarfa

Facial cellulitis may be transmitted through the bite of an insect.

By: Gianfranco Bella

Medical attention should be sought immediately if facial cellulitis is suspected.

By: nebari

People suffering from athlete's foot may be more susceptible to developing facial cellulitis.

By: Angel Simon

People suffering from shingles may be more susceptible to experience facial cellulitis.

By: Gerhard Seybert

Antibiotics may be required to treat facial cellulitis.

By: michaeljung

Severe facial cellulitis infections may require hospitalization and intravenous antibiotics.

By: blueringmedia

If cellulitis spreads, it can damage the lymphatic system and prevent the immune system from functioning properly.