What is High Astigmatism?
High astigmatism is a severe form of astigmatism, a medical condition in which an irregularly shaped cornea or lens in the eye causes blurry vision. There are no hard and fast rules for categorizing astigmatism, but astigmatism of over four diopters is generally considered high. Glasses, contact lenses, and surgery are all potential treatments, depending on the severity of the astigmatism and the irregularity of the shape of the cornea.
People who have normal vision have perfectly round corneas, the transparent surfaces that cover the pupil of each eye, and lenses, which focus light. Many people have an irregularly shaped corneas or lenses in one or both eyes, which are elongated in some direction, like a balloon. This is called astigmatism, and the irregularity is measured in diopters. If the astigmatism is less than 0.6, then vision is still considered normal and does not need correction.
A high degree of astigmatism, of over four diopters, will cause significant vision problems. Straight lines may appear wavy, making driving a vehicle or operating machinery not only difficult, but dangerous. Having astigmatism is different from near or farsightedness because blurry vision occurs at all distances. Reading with a severe astigmatism will usually cause eyestrain, leading to frequent headaches.
Moderate and high astigmatism can usually be corrected. Many brands of toric lenses are available for diopters 0.75 to 2.25. Specialty lenses, such as one-day, colored, and multifocal lenses, may not be available at these strengths. As the degree of astigmatism gets higher, the choices of soft contact lenses become slimmer, and rigid contact lenses may become the only available choice. This is also true for people whose astigmatism does not occur on or near the vertical or horizontal axis.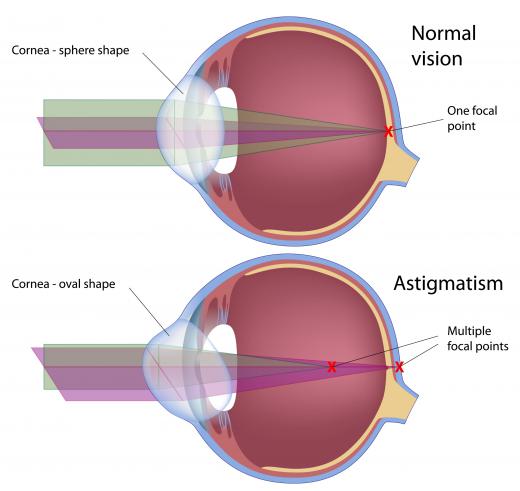 For extremely high astigmatism, over five diopters, surgery may be a suitable option. Astigmatic keratotomy and laser-assisted in situ keratomileusis (LASIK) surgeries both attempt to permanently correct cornea abnormalities. Often high astigmatic patients will see improvement, but may still need to wear glasses or contact lenses to perfectly correct their vision. Other unlucky patients will need to have more surgery. New vision problems, such as trouble with night vision and sensitivity to light, may be side effects of corrective surgery.
Some sufferers may need to stick with glasses. People with small eyeballs may have difficulty finding comfortable contact lenses, while people with small irises are not good candidates for surgery. The astigmatism of people with keratoconus, or cone-shaped corneas, usually cannot be corrected by anything but glasses.
AS FEATURED ON:
AS FEATURED ON:

By: Innovated Captures

Eye strain and headaches may result from reading with severe astigmatism.

By: Peter Orsaeo Sr

Surgery may be an option for extremely high astigmatism.

By: Alila

A normal eye and one with astigmatism.

By: ruigsantos

Soft contact lens choices diminish as the degree of astigmatism grows.

By: Enigmatico

A keratometer can be used to determine a patient's degree of astigmatism.

By: RTimages

Routine eye exams can help detect vision or eye problems -- such as astigmatism -- early.