Macroorchidism is the medical term for abnormally large testes in men. The condition describes bilateral, benign enlargement, meaning that both testes are larger than normal, but that their appearance does not affect their functioning. Macroorchidism can be a physical symptom in mentally retarded individuals, especially people who have been diagnosed with fragile X syndrome. It can also occur, however, in otherwise physically and mentally healthy men, though doctors and medical researchers are unsure of the cause. If a person notices that his testes have suddenly gotten significantly larger, he should consult a physician immediately to check for the presence of cancerous tumors, hypothyroidism, or other underlying medical conditions.
Macroorchidism is usually a benign condition, which indicates that there is nothing physically wrong with the reproductive organs besides their appearance. The various internal structures of the scrotum are intact and able to produce normal sperm in terms of volume and potency. Both testicles are typically affected to the same degree, meaning they are symmetrical.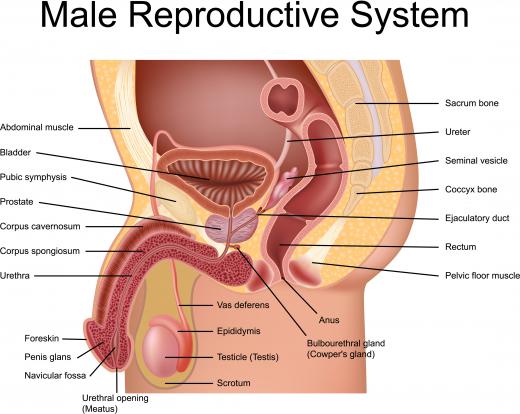 Doctors most often see macroorchidism in prepubescent males as well as mature adults with fragile X syndrome, an inherited condition that arises due to a mutation of a gene in the X chromosome. A man with fragile X syndrome may exhibit a number of unique physical, mental, and behavioral characteristics, including learning disabilities, memory problems, nervous speech, tics, elongated ears, flat feet, and enlarged testicles. In fact, the presence of large testes helps doctors make a diagnosis of fragile X syndrome instead of another form of a genetic mental disability.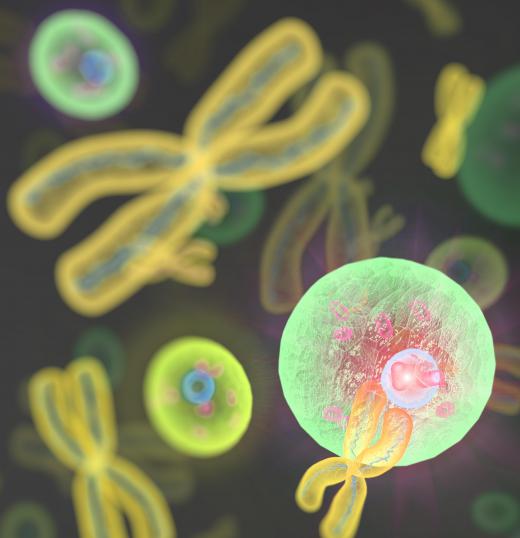 It is possible for a person without a mental handicap to experience macroorchidism, though it is considered rare. The reasons why the condition might occur are not well understood. Since most instances are asymptomatic, men do not suffer from any other physical, emotional, or behavioral problems. Most mentally stable men develop macroorchidism just before or during puberty, possibly because of imbalances in adrenaline and testosterone.
Cases of macroorchidism that either appear suddenly or do not develop until some point in adulthood should be reported to a doctor right away. A physician can carefully examine the testes, take x-rays and ultrasounds, and collect blood and urine for laboratory analysis. Testes that appear larger than normal may be a sign of tumors caused by leukemia, lymphoma, or testicular cancer. It may be determined that a young man with enlarged testicles suffers from hypothyroidism, a condition in which the thyroid gland does not produce enough hormones to regulate growth and development.
AS FEATURED ON:
AS FEATURED ON:

By: peterjunaidy

Macroorchidism occurs more often in patients with mentally retardation.

By: Giovanni Cancemi

Doctors often see macroorchidism in people with fragile X syndrome, which is caused by a mutation in the X chromosome.

By: stockshoppe

Hypothyroidism may cause abnormally large testes in men.

By: spotmatikphoto

Doctors most often see macroorchidism in prepubescent males.

By: Photographee.eu

Cases of macroorchidism that occur suddenly should be reported to a doctor immediately.