What is Muscle Conditioning?
Muscle conditioning is a term that relates to a group of exercises that are performed in order to strengthen the muscles in the body and improve endurance. Weight lifting using machines or dumbbells is one of the most common forms of muscle conditioning. However, there are also a number of exercises for conditioning that do not necessarily require the use of weights.
Squats and lunges are two of the most common exercises that are used to condition the muscles in the legs. Push-ups condition the muscles in the arms and upper body. Crunches and abdominal curls condition the muscles in the abdominal region. To increase the intensity of squats and lunges, these exercises can be performed while holding dumbbells of equal weight in each hand. The weights should be held with the arms extended straight down from the shoulders so that the hands are near the outer sides of each thigh.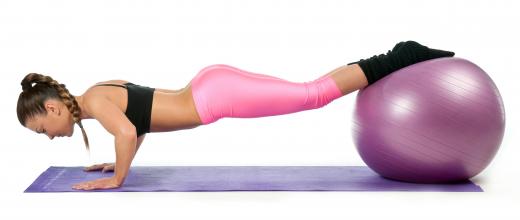 There are a number of ways to practice muscle conditioning. There are some at-home exercise machines that function as all-in-one muscle conditioning systems for the entire body. Conditioning can also be practiced by maintaining a specific exercise routine that includes some of the exercises described above as well as work with weights such as dead lifts and bench presses.
Many people enjoy workout routines that mix muscle conditioning with cardiovascular exercise. For a 30-minute mixed exercise routine, for example, someone might spend half of that time lifting weights and the other half of that time jogging on a treadmill or using a stair climber. There are a number of exercise classes that mix muscle conditioning with cardiovascular exercise. Body sculpting classes, for example, are a kind of class that mixes conditioning with cardio.
Outdoor exercise trails that include workout stations are great for this kind of mixed exercise. Many public parks have these sorts of trails or loops to promote public fitness. The stations, which include outdoor fitness equipment that can be used for muscle conditioning, are spaced a certain distance apart. Exercisers can jog or walk quickly from station to station for their cardio exercises and then use each station to improve their muscle strength and endurance.
Typical outdoor fitness equipment includes tilted benches for sit ups and crunches, bars for chin lifts, and bars for push ups. These sorts of fitness loops are a great, inexpensive way to get a combination of conditioning and cardio as long as the weather is fair.
AS FEATURED ON:
AS FEATURED ON:

By: bertys30

Doing push ups with elevated legs can condition the pectoral muscles and biceps.

By: Sergejs Rahunoks

A woman does push ups to condition the muscles.

By: Rido

Weight lifting builds muscle strength.

By: Martinan

Jogging provides an aerobic workout.

By: starush

Treadmill running can be combined with weight lifting for muscle conditioning.