Panafil®, also known as accuzyme ointment, is a topical ointment used to treat wounds and abrasions via debridement. It is considered a hydrophilic ointment because it reacts well with water. The active agent responsible for the medication's efficacy is derived from a fruit called papaya. Two additional chemicals enhance the effectiveness of the ointment by hastening recovery time and improving the aesthetics of the area being treated. Only a physician should determine this medicine's dosage level and usage. Although side effects are rare, Panafil® is not devoid of them; other medications may also contribute to adverse reactions or inhibit the ointment's ability to adequately treat the designated area.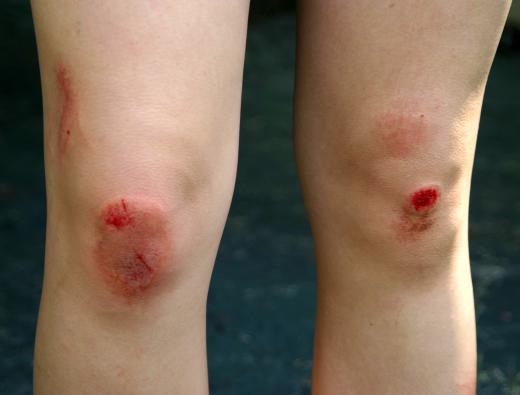 Debriding is the removal of dead or infected skin so that healthy skin can proliferate. Panafil® uses the process of debridement to clean the abrasion and facilitate recovery. This works because the key ingredient, papain, is an enzyme found in papaya that breaks down dead skin tissue without harming healthy skin cells.
Papain by itself has little utility however. Consequently, Panafil® contains urea and chlorophyllin. Urea is a chemical compound that contains elements that activate the papain while simultaneously altering the dead skin cells in a manner that facilitates their debridement. Chlorophyllin promotes the growth of healthy skin and consequently helps the lesion heal.
Panafil® comes in 0.2 ounce (6g) and 1 ounce (30g) tubes that should be stored at room temperature. The ointment is for external use only and should not be ingested or inhaled. If the medication comes in contact with the eyes, water should be used to flush them out. Typically, the medication is used once or twice daily, however a doctor may advise a patient to use the medicine more frequently if the condition warrants it. A patient is advised to cease use and contact his or her physician if the treatment irritates the skin.
Those using Panafil® should avoid using hydrogen peroxide or medications containing silver, mercury, or lead because these substances decrease the medicine's effectiveness. A patient is advised to cease use and contact his or her physician if the treatment results in prolonged irritation of the skin. Side effects seldom occur, however it is possible that a patient is allergic to one of the active ingredients in Panafil®. Signs of an allergic reaction include the development of a rash, lightheadedness, swelling, itching or respiratory difficulties.
Women who are pregnant or nursing should inform their doctor prior to using this drug. Panafil® can be passed from mother to child in utero or via breastfeeding, though it is unclear what effect use of the drug has on infants. Doctors may prohibit pregnant mothers from taking the drug, or will closely monitor them during treatment.


By: anjelagr

The active ingredient in Panafil is derived from papaya.

By: WideAwake

Panafil is used to clean cuts and abrasions, as well as facilitate recovery through debridement.

By: agephotography

Panafil is a topical ointment that may be useful in treating wounds and abrasions.

By: Hunor Kristo

Breastfeeding women should inform their doctor prior to using Panafil.

By: pedrosala

Pregnant women should not take Panafil without first consulting with their doctors.

By: Photographee.eu

Panafil may be used in hospitals to encourage healing in burn patients.

By: Rob Byron

A rash may develop as a result of an allergic reaction to Panafil.