What is Pleural Thickening?
The lining of the lungs, called the pleura or pleural membranes, consists of thin membranes that cover the lungs and provide protection and support. Some diseases can cause these membranes to thicken, often as a result of inflammation. Pleural thickening is commonly linked to mesothelioma and asbestosis, which are caused by asbestos exposure. The condition can also be caused by other diseases such as sarcoidosis and tuberculosis.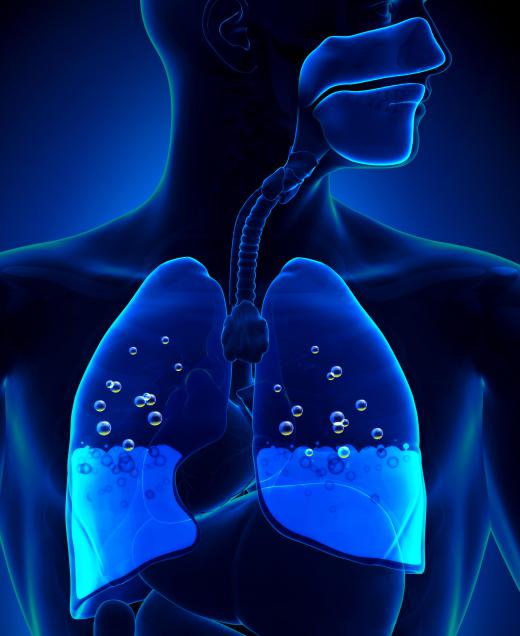 Pleural thickening is a common side effect of exposure to asbestos, and this thickening is an early warning sign for diagnosis. The pleural membranes thicken as a result of the chronic irritation and inflammation that asbestos fibers cause when they lodge in the lungs. Asbestos fibers are so small they cannot be seen with the naked eye, but in the lungs and lung membranes their needle-like shape can cause widespread damage to the delicate tissue.
When caused by exposure to asbestos, pleural thickening occurs in conjunction with other consequences of pleural disease, such as fibrosis and effusion. Pleural fibrosis describes the development of excess amounts of connective tissue, which occurs as the lungs attempt to repair the damage caused by asbestos fibers. Pleural effusion occurs when inflammation causes fluid to accumulate between the lungs and the lung linings.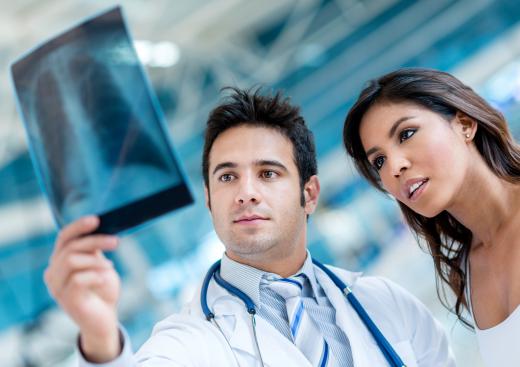 Thickening, fibrosis, and effusion of the pleural membranes are characteristic consequences of asbestosis, but may also be seen in cases of mesothelioma. These changes in lung tissue have serious consequences, eventually leading to markedly decreased lung function. People with asbestosis often have a dry cough, chest pain, and difficulty breathing. These symptoms occur partly because pleural thickening, fibrosis, and effusion cause lung tissue to become rigid, meaning the lungs are unable to inflate properly.
Thickening of the pleura is a symptom of both asbestosis and mesothelioma, but has other causes not related to asbestos. Tuberculosis, caused by lung infection with Mycobacterium tuberculosis, and sarcoidosis, a chronic inflammatory disease, can also cause pleural thickening. This pleural symptom can also occur in conjunction with a condition called hemothorax, which is caused by the presence of blood in the chest cavity.
Thickening of the pleural membranes is not a condition which is treatable. Because the thickening is a symptom of a disease such as asbestosis, treatment is more focused on the underlying cause of the thickening. Asbestosis itself is not curable, but the effects of symptoms can be ameliorated with pain medication and treatments that help the lungs compensate for loss of function.


By: Bernard MAURIN

Asbestos exposure can cause pleural thickening.

By: decade3d

A pleural effusion occurs when fluid accumulates between the lungs and the lung linings.

By: stockdevil

In the past, tuberculosis was a leading cause of pleural thickening.

By: Andres Rodriguez

The thickening of the pleural membranes is not considered a treatable condition.

By: high_resolution

Pleural fibrosis is the development of excess amounts of connective tissue in the lungs.