Pulp necrosis refers to the death of the material inside a tooth, which can lead to intense pain and discomfort for the patient. This can be a potential complication of dental cavities, fractures of the teeth, and trauma, and may be considered as a possible cause if a patient reports a persistent toothache. Diagnostic tools used to identify pulp necrosis can include physical examination, imaging, and probing with dental tools to collect samples and determine the nature of the damage. Treatment is important to prevent further complications and resolve the patient's pain.
This condition initially starts with pulpitis, inflammation in the dental pulp that can cause painful sensations and irritation. As it persists and grows deeper, it can start to kill the pulp cells, and the problem may spread into the jaw. Some patients develop abscesses, or a swollen area filled with pus inside the jaw; this can be very painful. They may notice swelling and tenderness on the involved side of the mouth and have trouble eating because of the pain associated with the pulp necrosis.
In the early stages, pulpitis can be treated to arrest the inflammation and prevent its progression. If the patient doesn't receive care, the problem can spread, and the patient may develop discoloration around the involved tooth. Abscesses can cause a foul odor and sharp pain that may lead the patient to go to a dentist for treatment. Once necrosis has set in, the patient will need endodontic treatment, where the dentist goes inside the tooth to inspect it, remove dead and severely damaged tissue, and protect it from future problems.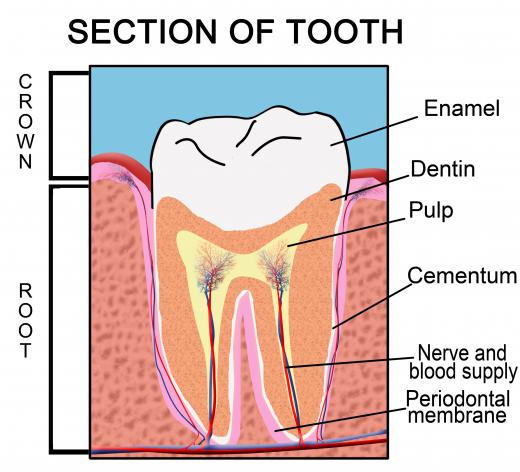 The root canal is a common example of endodontic therapy. Simply removing dead pulp isn't enough, because the tooth might become unstable and is still prone to infection and complications. Instead, the dentist carefully addresses the pulp necrosis and then fills the tooth with a sealant to insulate it from infection and inflammation in the future. Patients may need several days to recover from the procedure and are careful about what they eat and drink for several weeks while the mouth and jaw heal.
Failure to treat pulp necrosis can result in serious medical complications as the inflamed and dying tissue spreads through the mouth. Jaw abscesses can potentially rupture, exposing the patient to the risk of deep infection as well as scarring and permanent bone damage. Severe dental infections can also potentially cause endocarditis, a potentially life-threatening inflammatory condition in the heart muscle.
AS FEATURED ON:
AS FEATURED ON:

By: Alliance

People suffering from pulp necrosis may experience difficulty eating.

By: Balint Radu

The parts of a tooth. Pulp necrosis involves the death of that part of the tooth.

By: corepics

A physical examination may help diagnose pulp necrosis.

By: Robert Kneschke

Dental radiography is often used to diagnose pulp necrosis.

By: Eléonore H

A persistent toothache could be a symptom of pulp necrosis.

By: patrisyu

Pulp necrosis can be a potential complication of dental cavities.