What is the Cardiac Muscle?
The cardiac muscle is the heart, responsible for pumping blood throughout the body. It is made up of cardiac muscle and is the only place in the body where such muscle is found. All the other muscles in the body are composed of either skeletal muscle or smooth muscle. The most muscular part of the heart is its middle layer, called the myocardium, which is mainly responsible for its contractions.
Cardiac muscle is unique because it is striated, like skeletal muscle, yet involuntary, like smooth muscle. Skeletal muscle controls the body's movement and is generally under conscious, or voluntary, control. The internal organs, on the other hand, with the exception of the heart, are made of smooth muscle, which works without conscious effort.
Striated muscle is arranged in protein filaments known as sarcomeres that are responsible for muscular contraction. Sarcomeres give muscles a striated, or striped, appearance. The striations in the cardiac muscle, unlike those in skeletal muscles, are branched, creating a more tenacious structure.
The cardiac muscle is very strong and resistant to fatigue, as it must work constantly throughout an organism's life. The average human heart contracts 70 times per minute to circulate blood through the body's blood vessels. The action potential, the electrochemical wave, responsible for the heartbeat comes from within the cardiac muscle itself, allowing the heart to continue to function even if the nerves enervating it are severed, as in the case of a heart transplant. The cardiac muscle is supplied by nerves, but the nervous system merely helps regulate the speed and strength of its contractions.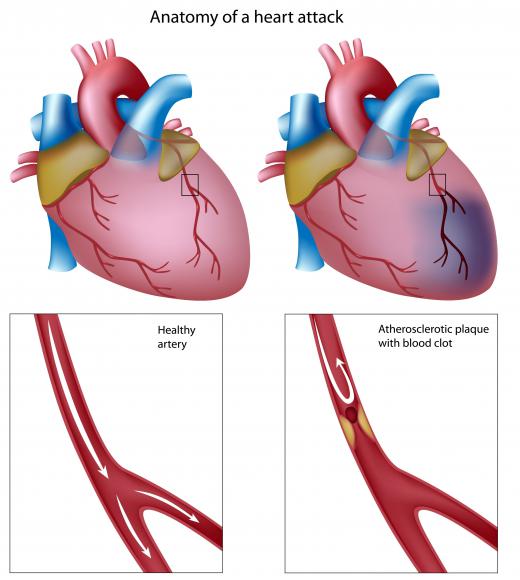 Unlike other muscles, cardiac muscle is nearly completely reliant on oxygen to function. While skeletal muscles can function anaerobically, using stored glycogen as a fuel source, the heart cannot to any significant degree. Therefore, damage and even death can occur very quickly whenever oxygen supply to the heart is blocked, such as during a heart attack.
AS FEATURED ON:
AS FEATURED ON:

By: unlim3d

The heart is also known as the cardiac muscle.

By: Alila

The anatomy of a heart attack.

By: werbefoto-burger.ch

On average, the human heart contracts about 70 times per minute.