What is the Cervical Plexus?
The cervical plexus is a group of nerves that make up the back of the head, the neck and the shoulders. There are four primary rami in both the posterior and anterior parts of the head; a ramus is a nerve branch. The anterior primary rami form the cervical plexus and are smaller than the posterior primary rami. The cervical nerve plexus makes up the skin on the anterior of the head and the lateral part of the neck, reaching to just underneath the clavicle. The plexus also supplies the neck muscles, which include the scalenes and strap muscles, and the diaphragm.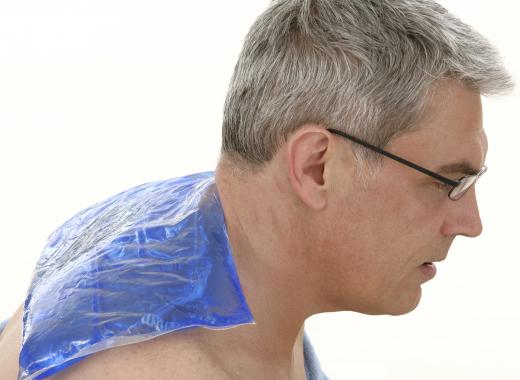 Cervical plexus nerves include the spinal accessory nerve, the supraclavicular nerve, the transverse cervical nerve, the great auricular nerve, the lesser and greater occipital nerves and the facial nerve. Except for the spinal accessory, greater occipital and facial nerves, this group is referred to as the cutaneous nerves. They are found in the posterior triangle around the border of the sternocleidomastoid, the muscle that rotates the head, and the cutaneous group supplies the skin with nerves. The supraclavicular nerve runs along the intermediate, lateral and medial branches in the posterior triangle and over the clavicle on the skin, supplying it with nerves.
The deep cervical plexus branches also supply the muscles with nerves. Fibers from the C1 posterior primary ramus supply the deep neck muscles, and some of these fibers join up with the hypoglossal nerve to supply the thyrohyoid and geniohyoid muscles with nerves. The C1 and C2 primary ramus fibers form the superior root of the ansa cervicalis, a loop of nerves that makes up part of the cervical plexus, while C2 and C3 fibers form the inferior root of this group of nerves. The ansa cervicalis supplies the strap muscles, while C2, 3 and 4 fibers, along with the spinal accessory nerve, supplies various scapular muscles.
The cervical plexus anatomy consists of the upper four cervical nerves. The lower three divide into branches, which either ascend or descend to form the plexus. The plexus consists of several branches, including a superficial cervical plexus, which supplies the cervical fascia, the head and neck skin and parts of the ear and face. A deep set of plexus nerves reaches the neck muscles and the upper back. The phrenic nerve arises from the fourth cervical nerve and enters the diaphragm through the thorax, breaking into more branches, which pierce the muscle and spread out under the surface, supplying it with nerves.


By: sharpshutter22

In addition to the seven cervical vertebrae shown in the model, cervical anatomy features eight cervical nerves (C1-C8) that branch off of the spinal cord and control different types of bodily and sensory activities.

By: JPC-PROD

A gel pack may help numb pain caused by a damaged cervical plexus.

By: Hunor Kristo

Injuries to the cervical plexus may cause pain just underneath the clavicle.

By: stockshoppe

The deep cervical plexus branches supply the muscles with nerves.