What Is the Connection between Stress and the Nervous System?
When the body experiences stress, it triggers a complex series of interactions between the nervous system and the endocrine system, which regulates hormones. The nervous system senses and interprets events, and if stress is perceived, the endocrine system is alerted while the sympathetic nervous system is activated. Chemical signaling by hormones is initiated by a tiny structure in the brain, the hypothalamus. Using the nervous system's electrical signaling, the hypothalamus triggers the release of hormones by the endocrine glands. Heart rate, breathing, digestion and a host of other metabolic processes are influenced by the intricate interactions between hormones, stress and the nervous system.
The central nervous system, made up of the brain and spinal cord, rapidly sends and receives electrical signals via neurons that act like messaging pathways. Signals from the peripheral nervous system are transported to the brain for interpretation. The brain responds by sending electrical messages that trigger muscles to act. In addition to controlling movement, the brain senses emotional, physical or mental stress and signals the endocrine system to release the appropriate hormones in response to the perceived emergency. The nervous system's responses to stress normally function to protect humans from harm, but chronic stress overwhelms the system.
To deal with stress, the sympathetic nervous system activates the fight or flight response — which triggers a surge in adrenaline, increased heart and breathing rates, elevated blood pressure and slowed digestion. This primes the body to act quickly during emergencies. The close ties between stress and the nervous system can cause problems when stress is chronic and the emergency response gets stuck in the "on" position. Anxiety, sleep problems and damage to the heart might occur if stress is excessive. Chronic stress prevents the parasympathetic nervous system from returning the body to a balanced, relaxed state.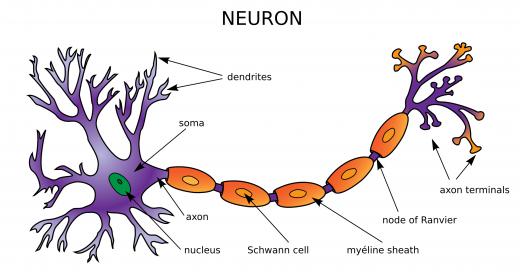 Stress causes the endocrine system to release hormones that have quick and wide-ranging effects throughout the body. The functioning of the immune system is depressed and the healing and repair of tissues slows, while activation of the sympathetic nervous system increases the stress the body feels. Emotional issues may develop, including anxiety and depression. Digestive functioning is impaired and stress-related diseases might emerge, such as chronic indigestion or irritable bowel syndrome. Medical professionals advise that people learn how to manage stress to help control potential problems with chronic stress and the nervous system's response.
AS FEATURED ON:
AS FEATURED ON:

By: Light Impression

When someone is under continuous stress, their emergency response system gets stuck "on".

By: Vector Art Design

Neurons send and receive chemical signals between various part of the body.

By: Alila Medical Media

The endocrine system is responsible for producing and regulating hormones in the bloodstream to control bodily functions.

By: Sebastian Kaulitzki

Chronic stress can overwhelm the nervous system.

By: zea_lenanet

An individual struggling with continual stress may have a compromised immune system that can lead to physical ailments.