What is the Connection Between Vitamin D and Magnesium?
There is a strong link between vitamin D and magnesium. Magnesium is a co-factor for vitamin D, meaning that magnesium is needed for the body to process vitamin D. It can be obtained through the diet by eating leafy green vegetables.
Magnesium is a mineral necessary to humans that is mainly obtained through the diet. It is found in nuts, whole grains, and green leafy vegetables. This mineral has many roles in the body such as encouraging the relaxation and normal functioning of muscles. It is also involved in the metabolism of carbohydrates, fats and proteins, and essential nutrients, such as calcium and vitamin D. Symptoms of a magnesium deficiency are varied and include muscle weakness and tremors, arrhythmia of the heart, depression, nausea, and elevated blood pressure.
Vitamin D is essential to many necessary functions in the human body. For example, vitamin D is involved in bone health, muscle heath, immune health, blood pressure and blood sugar regulation, as well as calcium and phosphorus metabolism. Humans are able to synthesize their own vitamin D by exposing unprotected skin to direct sunlight, but it can also be found in dietary supplements and enriched foods.
Magnesium is considered the most important co-factor in vitamin D absorption, meaning that the human body needs magnesium to properly metabolize and use vitamin D. Even if a person is consuming sufficient amounts of vitamin D, without enough magnesium, vitamin D cannot be effectively metabolized and production of active vitamin D metabolites is reduced. Too little magnesium can result in side effects reminiscent of low vitamin D intake such as poor bone health. If an individual is having problems increasing his levels of vitamin D, even after taking vitamin D supplements, this may be due to a magnesium deficiency.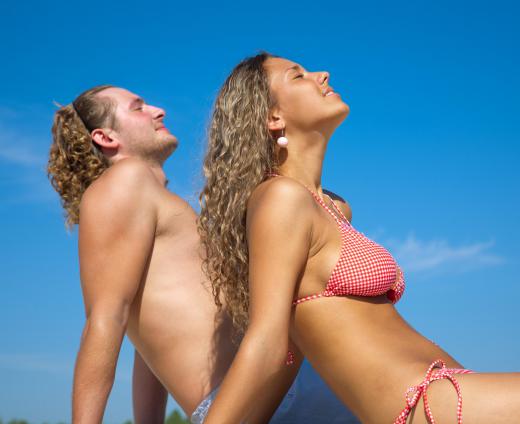 This connection between vitamin D and magnesium can be seen in some children suffering from rickets. Rickets is a disease, most common to children, that affects the bones and is caused by a vitamin D deficiency. To remedy rickets, patients are given supplements of vitamin D, yet in some cases, when patients have low levels of magnesium, this vitamin D supplementation is not successful. In these cases, supplementing both vitamin D and magnesium has helped patients to recover.
It can be difficult to raise the body's level of magnesium. Taking magnesium supplements is not always effective, as magnesium is most readily absorbed when it is found in food. Eating magnesium rich foods, especially seeds and green leafy vegetables, is the best way to raise magnesium levels in the body.
AS FEATURED ON:
AS FEATURED ON:

By: concept w

Magnesium is a co-factor for vitamin D, meaning that magnesium is needed for the body to process vitamin D.

By: travelbook

Spinach and other green leafy vegetables are high in magnesium, an essential electrolyte that plays a role in numerous metabolic processes.

By: yanlev

The body must have sufficient levels of magnesium in order to process vitamin D, which is produced naturally within the body when skin is exposed to sunlight.

By: ArTo

A vitamin D deficiency and weak bones may make some elderly individuals more prone to falls.

By: kmiragaya

Prolonged fatigue and poor concentration are symptoms of a magnesium deficiency.