What Is the Difference between Artificial Tears and Eye Drops?
One of the biggest differences between artificial tears and eye drops is the is the active ingredients in each. Artificial tears contain a certain ingredient that is similar to a person's real tears. Other types of eye drops may contain several different ingredients, depending on what they are used to treat. Most artificial tears are also somewhat thicker than other types of eye drops.
Technically speaking, artificial tears and eye drops are not necessarily different. In fact, artificial tears are actually just a form of eye drops. As with many other eye drops, users drip artificial tears into their eyes.
Not all artificial tears and eye drops contain the same ingredients. Artificial tears typically contain ingredients meant to mimic a person's natural tears. Cellulose derivatives, such as carboxymethyl cellulose and hydroxypropyl cellulose, are commonly used in artificial tears.
Artificial tears are typically used to treat a condition known as keratoconjunctivitis sicca, or dry eye syndrome. People suffering from this condition are typically unable to produce enough natural tears. Besides feeling dry, the eyes may also feel gritty or burn. Artificial tears can be dropped into the eyes several times each day to help relieve these symptoms.
Other types of eye drops usually contain saline, but they may also contain other substances to help treat certain eye problems. Plain saline solution can be used to wash or rinse irritants from the eyes. The active ingredients in medical eye drops will usually vary, depending on what the drops are supposed to treat.
Some eye drops can be used to treat allergies that affect the eyes. Eye allergies are often caused by tiny irritants floating in the air, including pollen, dust, and pet dander. Redness, itching, and general discomfort are common symptoms of these types of allergies. Some eye drops contain antihistamines, which will often help relieve eye allergy symptoms.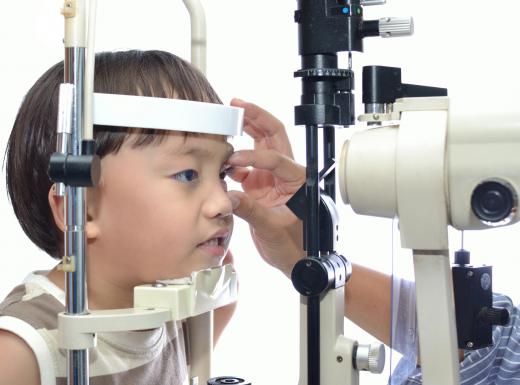 Red eyes, which are a problem for some people, can have a number of causes, including lack of sleep and irritation. Some medicated eye drops contain tetrahydrozoline hydrochloride, which constricts blood vessels. When the tiny blood vessels in the eyes are constricted, they are less noticeable. Using artificial tears and eye drops that contain this ingredient for an extended period of time is not recommended, however, since it can actually cause red eyes after prolonged use.
Eye infections, including pink eye and blepharitis, may also require medicated eye drops. These types of drops often contain an antibiotic. They may also contain pain relievers or steroids, which help reduce inflammation.
AS FEATURED ON:
AS FEATURED ON:

By: alco81

Artificial tears and eye drops often contain different ingredients, but are used the same way.

By: Stacy Barnett

Pink eye may require medicated eye drops.

By: arztsamui

Eye infections may require medicated eye drops.

By: arturas kerdokas

Dry eyes are a common phenomenon.

By: illustrez-vous

Eye drops may help soothe eye irritation caused by cigarette smoke.

By: Instants Captures

Prolonged use of artificial tears or eye drops that contain tetrahydrozoline hydrochloride can cause red eyes.

By: design56

Carboxymethyl cellulose and hydroxypropyl cellulose are commonly used in artificial tear drops.

By: djtaylor

Redness and itching of the eyes may be treated with eye drops.