Saline solution is a mixture of sodium chloride, or salt, and sterile water. It is available in several concentrations, but the most common one is 0.9% sodium chloride in water. It's typically used for medical purposes, and is found in intravenous (IV) drips, contact lens solution, and nasal irrigation sprays. In addition to this, it's often used in chemistry experiments.
Medical Uses
There are a wide variety of medical uses for saline solution, ranging from rehydration to wound care. One of the most common uses is in IV drips for those who are dehydrated from severe vomiting or diarrhea or are unable to eat. In these situations, the fluid is typically mixed with sugars like dextrose or glucose. This helps prevent complications and also helps reduce the amount of sodium circulating through the patient's body. Otherwise, side effects from too much sodium — such as an increased heart rate or convulsions — could occur.
Other medical purposes for saline solution include rinsing and safe storage of contact lenses, as well as nasal irrigation and wound care. Solutions for rinsing and storing contact lenses may sometimes contain other chemicals to keep the product sterile, so they should not be used for other purposes.
As a nasal irrigation, saline helps to safely rinse out the inside of the nose and promote nasal health. People who suffer from chronic sinus problems, including congestion and irritation in the nose, can benefit from periodic nasal irrigation because it helps clear mucus, congestion, pollen and dander, and can reduce post nasal-drip that may irritate the throat. In addition to washing out the nasal passages, saline solution can be used to clean out wounds, though it is not as effective in wounds with decaying tissue as other materials.
Other Uses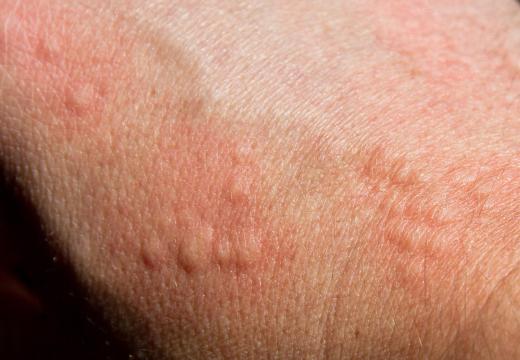 Besides its medical uses, saline solution is also used in chemistry experiments, where it can serve as a buffer or be used to maintain the pH of a solution or cell culture. In this context, the mixture often contains other ingredients, like potassium, calcium, or magnesium. It can be made on-site by putting salt tablets into purified water, but is also available pre-made.
Side Effects
Saline solution is generally considered safe as long as it is made and used properly. Most people don't have any side effects when using it for eye or nasal irritation, though injections of it can cause soreness and redness at the injection site. Rarely, it can cause a serious allergic reaction, so anyone having chest tightness, redness, hives, difficulty breathing, or swelling in the mouth should seek immediate medical attention. Additionally, some people have experienced infections when using homemade saline solution, but this generally happens when it is made with tap water or is not properly purified. Those with very high blood pressure or kidney problems should generally not have saline IVs or injections, since it expands blood vessels and can cause edema.
Homemade Solution
An at-home saline solution can be made by combining 0.5 teaspoon (4.5 g) of non-iodized salt with 1 cup (500 ml) of purified water and allowing it to reach room temperature, covered. At home mixtures should never be used for anything other than nasal irrigation. People who are not sure how to safely rinse their nasal passages should ask for directions from a medical professional or pharmacist.
AS FEATURED ON:
AS FEATURED ON:

By: mario beauregard

Hanging IV bag of saline solution.

By: jedi-master

A saline solution may be given to those who are dehydrated from severe vomiting.

By: Jürgen Fälchle

If a patient experiences hives from a saline solution, a doctor should be notified.

By: ruigsantos

Many people store contact lenses in a saline solution.

By: Ken Hurst

Saline solutions can be found in nasal irrigation sprays.

By: MediablitzImages

A saline solution can be used to rinse out the mouth and lessen the pain from a dental injury.

By: Meliha Gojak

Salines solutions are made by combining salt and sterile water.

By: chrisdorney

Many contact lens solutions and rinses contain saline solution.