What is the Difference Between Nutrition and Nutrients?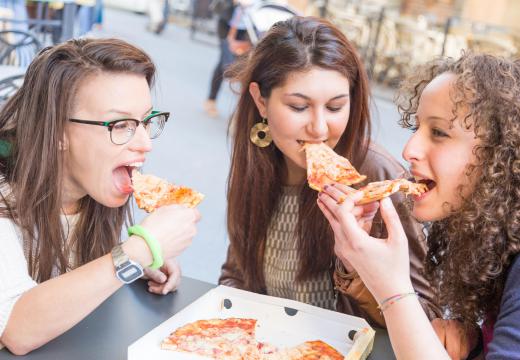 The words nutrition and nutrients cannot be used interchangeably, but they are closely related. Nutrition can refer to a supply of components that are derived from food, which keeps people alive and healthy. This term can also refer to the science used to determine which components are in which foods and to understand how the components in a person's diet affect her health. Nutrients are the various components, such as fat, carbohydrates, and vitamins, that the body derives from the food that an individual consumes.
Nutrition and nutrients are two closely related terms. It is not possible to consider nutrition without considering nutrients. When a person eats, the body breaks down the foods that are consumed and extracts certain beneficial components. These are referred to as the nutrients, and examples include vitamins, protein, and minerals.
When considering what is obtained from a person's diet, nutrition is therefore the collection of nutrients that a person receives from eating. If a person does not get a sufficient amount of nutrients, he is considered malnourished. If a person completely lacked nutrition, she could not survive, because nutrients are essential to human life. It is generally believed that the types, amounts, and mixture of nutrients that are in a person's diet can have an effect on her health by helping to prevent and to treat disease. The supply of nutrients in a given item is considered its nutritional value.
It is also possible to assess the nutrition of individual items, which can help to determine whether they should be consumed, how much should be consumed, and whether doing so will offer the body any benefits. The general rule of advice is that people should try to maintain diets that consist mostly of nutrient-dense foods. It is believed the continuing study of the relationship between nutrition and nutrients will lead to a deeper understanding of how a proper diet can be used to maintain good health. For example, more attention is being given to the connection between nutrition and mental health.
Many studies in the field of nutrition also aim to reveal the negative effects that occur in the bodies of individuals with poor diets. The analysis of nutrition and nutrients is an important part of certain jobs in the health care field. Although physicians may address the effects of their patients' diets to some degree, they do not usually specialize in the connection between food and health. Dietitians and nutritionists are professionals who concentrate on these topics.


By: william87

The word "nutrition" is used to mean all of the components that a person derives from what he or she eats.

By: enzo4

The word "nutrients" indicates the specific components of an item, such as the carbs and sugars contained in a loaf of bread.

By: marrakeshh

Holistic nutritionists specialize in the connections between food, nutrition, and health.

By: Wrangler

Overweight individuals are often malnourished.

By: Creativa

Many studies in nutrition aim to reveal the negative effects of a poor diet on the human body.