What Is the Omental Bursa?
The omental bursa is a pouch found in the abdomen of mammals, including humans, that is formed by the greater and lesser omentum. The term "omental" stands for its manner of formation, while "bursa" denotes its classification as a sac-like cavity. It is also known as the lesser sac or bursa omentalis minor. In some mammals, this feature might house some significant amounts of fat.
A thin layer of tissue that lines the walls of the abdominal cavity, the peritoneum is the location of the omental bursa. It is also the side of the greater and lesser omentum. Also known as the omentum majus, the greater omentum is the double layer of peritoneum, which is the biggest of its kind. It looks as if it is floating over the surface of the intestines as it hangs down from underneath the stomach, thus the alternate term "epiloon." The lesser omentum, also referred to as the omentum minus, is a double layer of peritoneum as well, but it extends from the lesser curvature of the stomach rather than from its greater curvature like the greater omentum.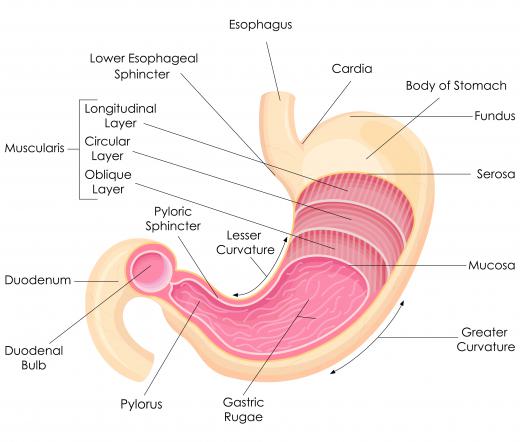 The greater and the lesser omentum are two of the demarcation of the omental bursa. Anteriorly, or at the front, it is bordered by the greater omentum as well as the stomach and a well-defined section of the liver called a caudate lobe. Posteriorly, or from behind, the omental bursa is bordered, again, by the greater omentum via its posterior layers. Also demarcating the back of the lesser sac are a fold of peritoneum called transverse mesocolon and the transverse colon it connects to the stomach, the upper sections of the kidney and the pancreas, and the adrenal gland on the left side of the kidney. At the omental bursa's right are not only the lesser omentum, but the epiploic foramen as well.
Also known as the foramen of Winslow, the epiploic foramen is significant for being the opening that provides the communication link between the omental bursa — as the lesser sac — with the greater sac. This is the pouch in the abdomen that is outside of the lesser sac but inside the peritoneum. The epiploic foramen, also called the omental foramen, is formed by the greater omentum folding inwardly, which is a process that also contributes in the formation of the omental bursa itself. Notably, the foramen of Winslow and lesser omentum may leak into the omental bursa if they rupture.
AS FEATURED ON:
AS FEATURED ON:

By: stockshoppe

The lesser omentum is a double layer of peritoneum that extends from the lesser curvature of the stomach.

By: elizalebedewa

The fat of the greater omentum is often referred to as the "beer belly."