What is the Quadratus Lumborum?
The quadratus lumborum — sometimes known as the QL — is a muscle located in the lower back. Its main action is to help flex the trunk of the body sideways and is involved in a large number of twisting activities. The muscle is also involved when a person lifts an object and helps to fix certain ribs during expiration. Due to the muscle's involvement in a range of daily activities, it can commonly cause back pain and is often the subject of physical therapy.
The insertion of the quadratus lumborum muscle is on the 12th rib and hence this is the rib it helps to fix during expiration. From this point, it runs downward, although it also has attachment points on the L1-L4 bones of the spine. The origin is on the iliac crest, and the innervation is via the subcostal and lumbar nerves. Its blood supply comes from the lumbar arteries.
An example of a daily activity that uses the quadratus lumborum is bending sideways. Any action that requires lifting an object will also involve the muscle, however. There are several other actions that the muscle is involved in. For example, it helps to extend the lumbar column when there is contraction on both sides of the body and also helps to elevate the ilium.
The quadratus lumborum muscle is a common source for pain in the lower back. This is because the QL muscle attaches to both the spine and the pelvis and therefore is regularly involved in daily activities. Due to the muscle's position, it often has to take over some of the excess strain from other muscles, which can result in fatigue. When the muscle is placed in an over-stretched and loaded position for a long period of time, it will eventually start to spasm, which can cause pain.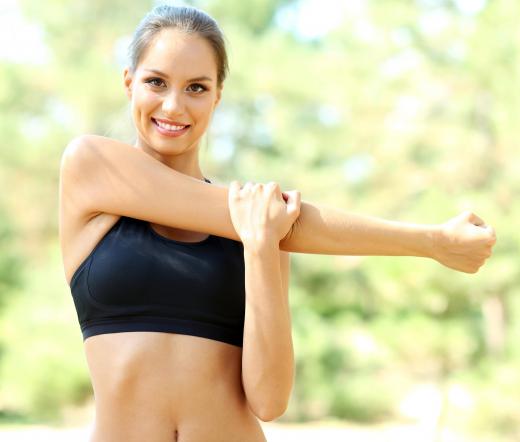 There are a number of stretches that can be used to help prevent this problem. For example, a simple side stretch can open up the quadratus lumborum muscle and reduce the chance of an injury or spasm occurring. To perform a side stretch, the stretcher should stand up straight before reaching upward with one arm. In a slow and fluid movement the stretcher should lean sideways to the opposite side of the raised arm until a stretch is felt along the side of the body. This stretch should be held for at least 20 seconds and be repeated three times.
AS FEATURED ON:
AS FEATURED ON:

By: aceshot

The quadratus lumborum is a common source of pain in the lower back.

By: Hemeroskopion

The quadratus lumborum often takes over some excess strain from other muscles, which can cause it to spasm.

By: Africa Studio

Side and other stretches may help alleviate spasms in the quadratus lumborum.

By: CandyBox Images

Improperly lifting heavy objects may cause injury to the quadratus lumborum.

By: JackF

Medical attention may be necessary to treat a severely strained quadratus lumborum.