What Is the Recommended Dose of Vitamin C for Children?
Vitamin C is an important dietary supplement when administered in the proper dosages. When starting a regimen of vitamin C for children, it is important to consider that dosing amounts are different depending on the age of the child and, as the child ages, gender. For infants up to a year old, the daily intake is supplied by the mother's milk. Beginning at one year, the suggested dosage increases.
It is recommended that children between the ages of one and three receive dose of 15 mg of vitamin C. Children between four and eight should receive 25 mg, while children between nine and 13 need 45 mg. From age 14 until age 18, there are different dosages based on gender. Teenage boys should receive 75 mg, while girls only require 65 mg. Pregnant and nursing girls 18 or younger require 115 mg, while those who smoke should add 35 mg to their recommended dosages.
Just as important as meeting the recommended dosages is not consuming vitamin C in excess, as this can lead to side effects such as nausea, heartburn, stomach cramps, headache, and severe diarrhea. Children between one and three should not consume more than 400 mg per day, while those between four and eight should not take more than 650 mg, and children between nine and 13 should not take more than 1,200 mg. Adolescents and pregnant or nursing girls between 14 and 18 should not take more than 1,800 mg.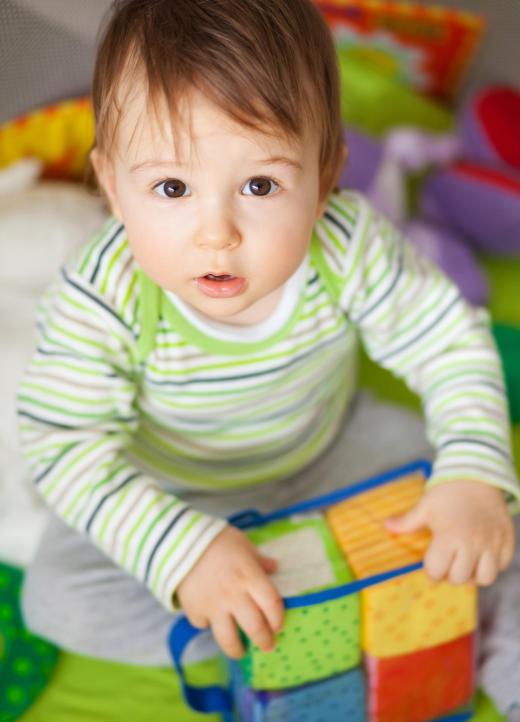 Vitamin C for children can be given in the form of supplements. Fresh fruits and vegetables, particularly citrus fruits, can be the best natural sources of vitamin C for children. Fresh-squeezed orange juice or juice from fresh-frozen concentrate has the highest content, and contains more active vitamin C than ready to drink juices or supplements.
Following the correct amounts of vitamin C for children is crucial, as it is an essential vitamin for maintaining the function of the immune system. Many use it to treat the common cold and for infections. Vitamin C deficiency can cause scurvy, which affects the bone growth rate of children by calcifying the ends of bones and preventing them from growing any further. Scurvy can occur in individuals at any age, but the majority of cases of infantile scurvy occur in children between six and 24 months old. Extreme cases of scurvy in children can result in death from cardiac failure, making it very important to follow a recommended dosing schedule regarding vitamin C for children.
Can I Give Vitamin C To My Child?
Vitamin C is crucial for your child's health and overall development. The body does not produce or store the nutrient (also known as ascorbic acid) alone, so it is vital for parents to understand its importance. Vitamin C plays a role in producing collagen, repairing blood vessels and keeping bones and tissues healthy. It promotes the development of strong teeth and gums, which is important in a child's early years. The nutrient also assists the body with absorbing iron from other food sources. Busy toddlers and children fall! Vitamin C helps the body heal bruises while also protecting from infections. It is an antioxidant that boosts the immune system immensely.
Vitamin C can be found naturally in a variety of fruits and vegetables, making it easy to incorporate into a child's diet. Fruits and vegetables packed with the vitamin include:
Kiwis
Strawberries
Guavas
Bananas
Oranges
Broccoli
Spinach
Bell peppers
Vitamin C deficiencies are not common in the United States, as the nutrient is prevalent in a wide variety of plant-based foods. However, if you have a picky eater and think your child might be lacking this vitamin, talk to your pediatrician. They can decide if a vitamin C supplement might be necessary. Never give a child a vitamin supplement on your own.
The amount of vitamin C needed depends on the age of the child. For example, three medium-sized strawberries provide approximately 21 mg of vitamin C, which is an appropriate daily dose for children 1 to 3 years old. It is recommended for toddlers to consume a minimum of 15 mg of vitamin C daily. Now add ¼ cup of spinach (4.5 mg) with the strawberries, and you have the suitable amount for children 4 to 8 years old, as they need at least 25 mg a day. Children ages 9 to 13 should consume more than 45 mg daily. Start your child's day with 90 mg of vitamin C just by giving them a half glass of orange juice!
Can You Overdose a Child on Vitamin C?
It is very unlikely for your child to overdose on vitamin C, as it is a water-soluble nutrient, meaning the body can flush the excess out through urine. However, if too much vitamin C is absorbed, uncomfortable symptoms may occur. Gastrointestinal problems can happen such as nausea, vomiting and diarrhea. Sores and ulcers can form in the mouth due to the acidity. Pain and cramping show up in the legs and feet. Kidney stones can even develop. Watch out for trouble sleeping and frequent headaches, too. Fortunately, the listed side effects are all non-life-threatening.
Is 500mg of Vitamin C Too Much for a Child? 
The appropriate dose depends on the age of the child. 500 mg of vitamin C is too much of a daily dose for a child 1 to 3 years old. Toddlers in that age range should not consume more than 400 mg a day. Children ages 4 to 8 years can tolerate up to 650 mg a day. The 9-to-13 age group can increase their max intake up to 1,200 mg daily. It is also important to recognize the sensitivity of vitamin C dosage and age when it comes to supplements. Most over-the-counter supplements come in 500 mg or more tablets, which is too strong of a dose for young children.
Vitamin C is an essential nutrient that is necessary for a child's healthy diet. The overall key is that the child needs to consume the appropriate amount for their age so their body can acquire the most benefits.
AS FEATURED ON:
AS FEATURED ON:

By: natalyka

Oranges or fresh-squeezed orange juice can help children get their necessary intake of Vitamin C, which ranges from 15 mg to 75 mg, depending on the child's age.

By: Ana Blazic Pavlovic

Children under the age of 3 should not consume more than 400 mg of vitamin C on a daily basis.

By: DNF-Style

The recommended daily dose of vitamin C for adolescents is approximately 45 mg.

By: Peredniankina

Too much Vitamin C could cause heartburn, stomach cramps, headaches, and more.