What Is the Relationship between Neurotransmitters and Memory?
Neurotransmitters are endogenous chemicals that aid in nerve communication between neurons in the nervous system by carrying messages. There are four parts of memory that are affected by neurotransmitters. Working and immediate memory are the primary types of memory. Visual and verbal memory are used to recall things that have been seen or heard. Neurotransmitters and memory are connected through the regulation and retention of the four types of memory.
The brain and nervous system make many different chemicals that travel through the body and allow the body system to function. Neurotransmitters are chemicals that are produced to aid in memory. When these chemicals are being produced, the brain is able to process information coming in, store information as memories, and recall the memories as needed. A deficiency in neurotransmitter production can cause problems with memory.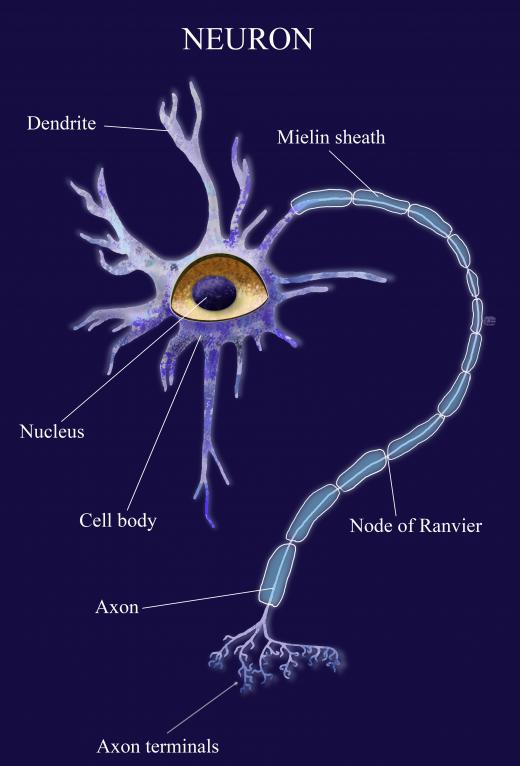 Working memory is the part of memory that controls information the brain has stored that is used for learning, comprehending, and reasoning. It is also the brain's ability to combine new information with old memories. In this instance, neurotransmitters and memory rely on each other to help the brain complete more complex tasks properly. Preventing the dumping of old memories, caused by an overload of information, is another control performed by neurotransmitters.
Immediate memory is another connection between neurotransmitters and memory. This type of memory is short term. It is the memory that is used to store and recall information within seconds. Auditory and visual information are often the main sources for immediate memory and are regulated by neurotransmitters. If the information is not used after a few seconds, it is discarded.
The memory that is obtained through what a person sees is called visual memory. Neurotransmitters and memory are connected by this form as well. Every shape, color, and object is processed by the brain, and this visual information is maintained by neurotransmitters. Visual memory also includes how changes in a person's environment are viewed and remembered.
A final connection between neurotransmitters and memory is through verbal memory. The production, storing, and comprehension of sounds are maintained by neurotransmitters in the temporal lobe of the brain. Without regulation by neurotransmitters, the brain cannot store verbal information properly. An overload of information can cause the brain to dump existing information.
Neurotransmitters and memory have a known relationship. Studies that involve memory and chemical connections have shown that neurotransmitters aid in the formation of memory. They also help the brain combine new information with existing memories. Additionally, these beneficial chemicals also aid in memory recall efforts.
AS FEATURED ON:
AS FEATURED ON:

By: kateryna zakorko

Neurotransmitters are chemicals that aid in nerve communication between neurons.

By: KBF MEDIA

Visual and short-term memory rely on neurotransmitters.

By: joshya

Acetylcholine (ACh) is a neurotransmitter that contributes to neurological functions such as memory and muscle control.