What Is the Treatment for an Enlarged Thymus?
The thymus gland is an organ located directly beneath the breastbone. It plays an important role in the development of a healthy immune system. An enlarged thymus could be the result of an immune system disorder such as myasthenia gravis or might be caused by other factors, such as thymic hyperplasia, which is a cellular abnormality. The treatment for an enlarged thymus depends on the factors responsible. Possible treatments include medication, chemotherapy, radiation therapy or certain medical procedures.
Hyperplasia is a condition that leads to the overproduction of cells and might lead to the abnormal enlargement of an organ in the body. Thymic hyperplasia is an abnormal enlargement of the thymus as a result of hyperplasia. This condition causes the cells in the thymus to split more than normal, leading to an enlargement of the organ. Hyperplasia might be the result of a stressor such as invasive surgery, serious burns or other stimuli. Usually, a doctor will perform a series of tests, including a computed tomography (CT) scan and laboratory tests, to determine the size of the thymus, its effect on the patient and the best course of action.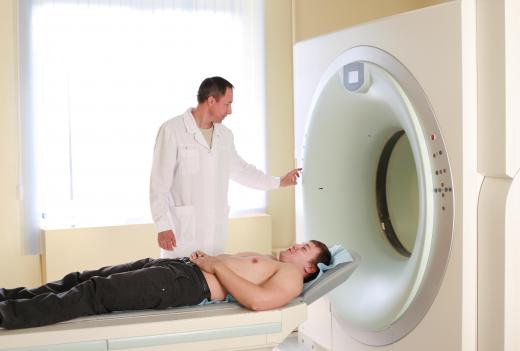 A thymic tumor could also cause an enlarged thymus. Thymic tumors manifest in six distinct categories: types A, AB, B1, B2, B3 and C. These tumors are further subdivided into thymic carcinomas and thymomas. Thymic tumors might be diagnosed using a chest radiograph, CT scan or magnetic resonance imaging (MRI). The next step is obtaining a tissue sample through a biopsy to find out the type of thymic tumor.
The exact type of treatment depends on the type of thymic tumor. Some of these treatment include chemotherapy, surgery and radiation therapy. Thymic carcinomas are especially malignant. The survival rate is very low, even after surgery, chemotherapy or radiation therapy.
Myasthenia gravis is directly related to the development of an enlarged thymus. A doctor has to examine the patient and perform some tests to determine whether he or she has myasthenia gravis. Some of the tests include laboratory examinations of tissue samples and electromyography (EMG). The doctor could also order a CT scan and chest radiograph to ascertain the cause of the problem.
Treating myasthenia gravis will help reduce the enlarged thymus. Some of the treatments include the administration of drugs such as cholinesterase inhibitors and corticosteroids. Other treatments include a surgical process such as thymectomy and careful postoperative management of the patient. Anticholinesterase medication and even another operation to address any new issues will help the patient live a reasonably normal life.


By: beeboys

Medication may be helpful in treating an enlarged thymus.

By: Shuva Rahim

Hyperplasia, a condition that may lead to the enlargement of the thymus, may occur as a result of invasive surgery.

By: Konstantin Sutyagin

A CT scan may be used to help determine the size of an individual's thymus.

By: designua

The exact type of treatment for an enlarged thymus depends on the type of tumor.