What Is the Treatment for Sinus Bradycardia?
When the heart beats slowly, at less than 60 beats per minute, it could be the result of supreme athletic endurance, sleep or a side effect of heart medications. A condition called sinus bradycardia also causes the heart to beat slowly, resulting in faintness, lethargy and even fainting or death. The treatment for sinus bradycardia, which will vary depending on each patient's circumstances, could be an atropine injection, or the implantation of a pacemaker in more serious cases known as sick sinus syndrome. For patients who have suffered a heart attack or stroke, or who are unconscious, the first procedure that might occur at the emergency room is likely to be an endotracheal intubation to open the airways and allow a ventilator to supervise the heart's supply of oxygen.
A patient who seeks treatment for sinus bradycardia is likely to have fainted. On the way to the hospital, paramedics are likely to institute an IV site, begin computer heart monitoring, administer an antropine injection, and provide oxygen, often through intubation if the patient is still unconscious. At the hospital, many of these patients are deemed candidates for a pacemaker. This procedure involves surgically implanting a pacemaker with one, two or three nodules attached at certain chambers and ventricles to provide the recurrent electrical signals that, for some reason, are not being sent quickly enough to the heart.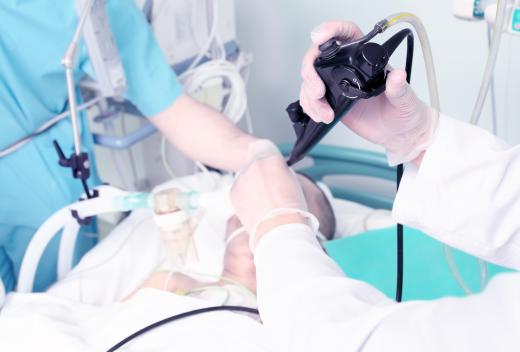 A beta blocker or calcium channel blocker drug, regularly prescribed to heart disease patients, could be causing the heart to beat too slowly. Treatment for sinus bradycardia could be as simple as terminating a patient's prescription for any of those types of drugs. The difficulty then becomes determining how these patients will continue to manage their heart disease.
Exercise is another common precursor to a fainting or weakness spell resulting from sinus bradycardia. In this state the body's muscles need more oxygen to function properly. If the heart rate does not increase accordingly, a person might end up seeking treatment for sinus bradycardia and wearing a pacemaker. Treatment for sinus bradycardia might entail instituting a less-strenuous physical regimen in the future.
Certain cases of this condition involve patients who have experienced damage to the body's sinus node, called sick sinus syndrome. This is the nerve center in the atrium of the heart that is responsible for the electrical impulses needed for proper respiratory and circulatory health. The resulting damage is still relatively misunderstood, but it is more common in those who had surgery when young to address a congenital heart condition.
A sluggish heart could be created by a failure for the sinus node's signals to make it to any other part of the heart system, called a heart block. The body's vagus nerve center has been known to institute a slower heart rate when confronted with certain noxious agents. Other times, bradycardia is treated in the emergency room as a result of exposure to extreme cold.
AS FEATURED ON:
AS FEATURED ON:

By: sudok1

Endotracheal intubation is usually the first procedure for patients suffering from sinus bradycardia.

By: picsfive

Patients who experience irregular heart rhythms may require the assistance of a pacemaker.