What is the Treatment for Tonsil Cysts?
The treatment for tonsil cysts, or tonsil stones, usually begins with a round of antibiotics and may be all that is needed to clear them up. If these pus filled lumps are thought to be cancerous, more serious treatments are required. In some cases they may be chronic, and this also requires further treatment beyond antibiotics alone.
Sometimes tonsil cysts will clear up on their own without any medical treatment. If they persist, oral antibiotics are generally prescribed. It may be necessary to complete more than one cycle of antibiotics before the cysts are eliminated. They can be resistant to treatment and quite hard to get rid of.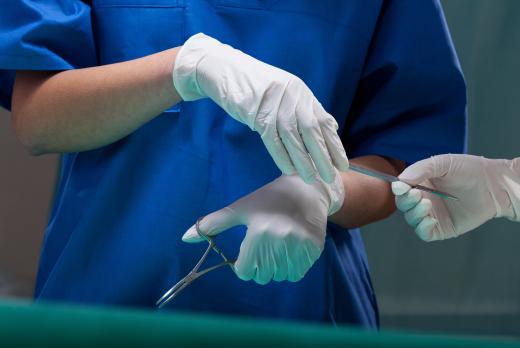 When tonsil cysts remain or recur after antibiotics have been tried, surgical removal may be required. A tonsillectomy is often performed by an otorhinolaryngologist, i.e., an ear, nose, and throat doctor. This type of surgery removes the tonsil tissues, which prevents the cysts from being able to form in the throat. Surgery is the only way to ensure that they do not return.
Most of these painful nodules are benign, but they can occasionally become cancerous. If a physician suspects cancer, a portion of the cyst is cut out and tested for malignancy. This is a biopsy. Malignant cysts are then completely removed and further action may be required such as chemotherapy or other medications.
Smoking and drinking alcohol can lead to tonsil cysts by increasing the amount of acid within the mouth and throat. Giving up these habits can help to prevent new ones from forming. Chronic sinus problems can also increase the tendency for cysts to form in the tonsils.
Preventative measures should be taken to prevent tonsil cysts from recurring. Nasal irrigation is helpful in some cases, especially those that occur from frequent sinus infections. To do this, a saline solution is inhaled through the nose. The solution is then spit out and should not be swallowed. A salt water gargle can also be helpful when done regularly because this loosens the calcium deposits that can lead to cysts.
The most common symptoms of a tonsil cyst are pain and difficulty in swallowing along with severe bad breath. Swollen glands, earache, headache, and fever may also be present. Some people try to remove the cysts by squeezing them or pushing on them with a cotton swab. This should not be done as it can lead to infection and can cause the cysts to spread.


By: Brian Jackson

Antibiotics may help treat tonsil cysts.

By: Photographee.eu

Surgical removal may be required to treat tonsil cysts.

By: Photo-maxx

Smoking and drinking may lead to the development of tonsil cysts.

By: Junial Enterprises

Chronic sinus problems may lead to the development of tonsil cysts.

By: Oksana Kuzmina

Nasal irrigation may help prevent tonsil cysts from recurring.

By: Kalim

Symptoms of tonsil cysts may include pain when swallowing.

By: brankatekic

Swollen glands may be a sign of tonsil cysts.

By: irinapiter

Fever and headache are symptoms associated with tonsil cysts.

By: ArenaCreative

Tonsil cysts, or tonsil stones, are small, yellowish in color, and form in the back of the throat within the tonsils.