What Should I Do after Umbilical Hernia Surgery?
After umbilical hernia surgery, you will be given instructions involving proper incision care as well as any activity restrictions that may be recommended by the surgeon. Depending on the type of procedure performed to repair the hernia, you may be able to go home the same day as the surgery, although in some cases, a few days may need to be spent in a hospital. When post-operative instructions are followed and no complications develop, a complete recovery is possible in just a few weeks. Any questions or concerns that you have about individual care instructions should be discussed with a doctor or other medical professional.
Immediately after umbilical hernia surgery, you'll be moved to a recovery room. While in this area, the medical staff will carefully monitor your blood pressure and other vital signs to make sure there are no complications following the procedure. Once you're awake and deemed medially stable, you'll be transferred to a regular room. If the surgery was performed as an outpatient procedure, you may be discharged a few hours after the operation.
Many medical professionals recommend bed rest for a couple of days after surgery. Once you begin to feel a little better, you'll be able to begin moving around and performing light physical activity. No strenuous activities, lifting, or exercise should be done until given permission, as this could cause significant health concerns and complications.
Proper incision care is extremely important in order to prevent infection. Any unnecessary activity could rupture the sutures and cause bleeding, sometimes requiring additional surgery. The surgical wound should be kept dry and covered with a bandage or gauze. Mild bleeding or oozing is considered normal, and the bandages may have to be changed periodically for the first couple days or so. Some medical professionals allow the patient to remove the bandages after about three days, although others prefer to remove the bandages at the follow-up visit.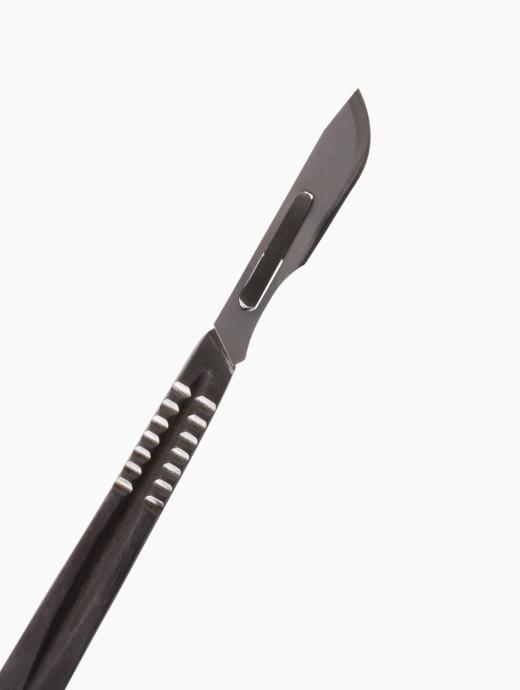 Any complications that develop after surgery should be reported to your doctor for further medical evaluation. Mild discomfort is to be expected, but any severe pain should be reported. Excessive bleeding or swelling of the incision site may indicate possible complications. In most cases, the healing process is rather uneventful, and you should be able to return to all normal activities within a few weeks of the procedure.
AS FEATURED ON:
AS FEATURED ON:

By: DragonImages

Spending time in the hospital may be necessary following umbilical hernia surgery.

By: Jeanette Dietl

Severe pain following umbilical hernia surgery should be discussed with your doctor, but mild discomfort is common.

By: iofoto

A scalpel is a small, sharp knife that is used in surgeries to make incisions.

By: picsfive

Surgical wounds are often covered with gauze.