What Should I Expect from Liquid Nitrogen Wart Removal?
Wart treatment sometimes involves cryosurgery, which is a liquid nitrogen wart removal process. It is performed by a medical professional and takes very little time, but the process can be painful and it may take several days or even weeks for the affected area to heal completely. The healing time often depends on where on the body the wart has developed. The concept behind this method of wart removal focuses on freezing the skin to develop a blister underneath the wart. This prevents the wart from feeding on blood vessels and essentially kills it as a result. In some cases, a medical professional may choose to cut out parts of the dead skin around the wart after freezing rather than letting the process work slowly on its own.
You should expect to have several visits the your healthcare provider when being treated with liquid nitrogen to remove a wart. The liquid nitrogen may need to be applied several times before the wart is completely killed off, and the medical professional may choose to cut away the dead skin. In between visits, you may be able to take painkilling medication to complement the wart removal process, as it can sometimes be quite painful, especially if the wart is on a part of the body normally covered by clothing. Plantar warts, which occur on the soles of the feet, can be particularly troublesome because the foot is weight bearing, and the wart will become compressed as you walk normally.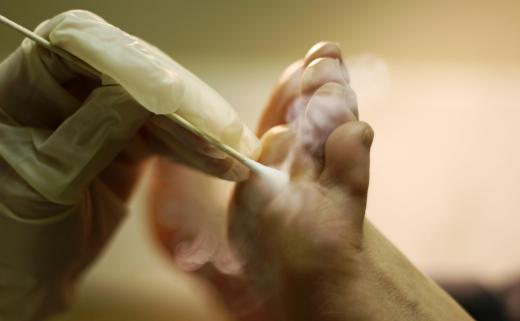 A blister should form underneath the wart after liquid nitrogen wart removal, and it is important to pay special attention to it to prevent it from bursting. A burst blister is more likely to allow the wart to recur in the future; it should be allowed to heal itself naturally, since the liquid inside the blister will naturally reconstitute itself into the body, helping to prevent infections. It will also leave dead skin behind, and you should try not to pick at it, allowing it to flake off on its own. This will prevent infection as well, and it will prevent the wart from recurring or spreading.
Liquid nitrogen wart removal can be done at home, but this is not recommended for several reasons. The risk of performing the process incorrectly is quite high, which could lead to long-term problems such as nerve damage. Liquid nitrogen is also a volatile substance that must be handled properly to avoid risk of injury, and it should be stored in a proper container. If you have never handled liquid nitrogen and have no experience with the process, it is best to visit a medical professional to get the process done correctly.
AS FEATURED ON:
AS FEATURED ON:

By: Gordon Lau

Wart removal with liquid nitrogen.

By: Tiler84

Warts on a hand.

By: markara

Liquid nitrogen should be handled by a medical professional.

By: F.C.G.

Freezing warts with liquid nitrogen often causes blisters to form where the treatment was performed.

By: Jürgen Fälchle

Plantar warts grow on the soles of the feet, and may be avoided by refraining from walking barefoot in public places.