Why is E. Coli so Dangerous?
E. coli, a bacterium commonly found in the gut, can turn lethal when certain strains produce toxins, damaging intestines and causing severe illness. How does E. coli evolve into such a formidable threat, and what steps can we take to protect ourselves?
Escherichia coli, often abbreviated as E. coli, is a type of bacteria commonly found in the digestive systems of animals. One specific strain can cause serious digestive system upset, however, leading to diarrhea and nausea, which can leave an infected person weak and dehydrated. It may also produce a toxin that damages the kidneys and weakens the small intestine walls in children. Part of the reason that this bacteria is so dangerous is because there is no effective cure for an infection.
In 2006, consumers in the United States experienced a major health scare when bags of raw spinach leaves processed in California were found to contain dangerous levels of E. coli. Hundreds of people were sickened, and several deaths were reported. The source of the contamination was eventually traced to specific produce farms located in one county in California. While sales of bagged spinach eventually resumed, the public also became aware of some of the dangers of bacterial contamination and exposure.
It is important to realize that not all E. coli bacteria are harmful to humans. Most serve as a digestive aid; they are part of the helpful gut flora responsible for breaking down certain foods into more digestible sugars or proteins. One particular strain, called E. coli O157:H7, is the form of bacteria responsible for the most serious complications associated with contaminated foods and other sources.
The first symptoms of true E. coli contamination mimic a number of other conditions considered to be temporary or treatable with standard antibiotics. The sufferer may experience abdominal cramping, diarrhea, and nausea. The loss of fluids may also cause dehydration and a general loss of energy. Many people have experienced these symptoms as the result of a 24-hour flu bug, mild food poisoning, or general overeating. Parents and other caregivers may not recognize the more serious symptoms of an infection for several days.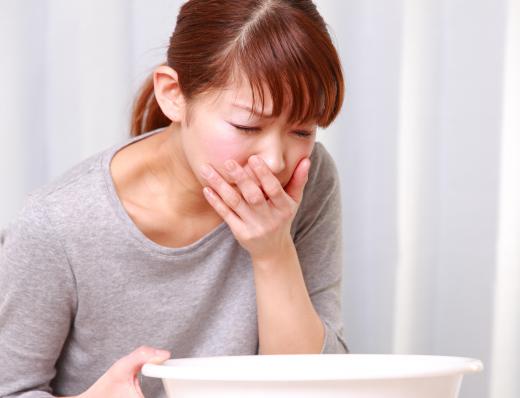 Another reason that this bacteria is so dangerous is that it most severely impacts the young, the elderly, and people who are immunity-compromised. Healthy adults can usually survive the worst of an infection, because other elements of their digestive tracts still function normally, and the body's natural defenses can eventually overwhelm the invading bacteria. Young children have not yet developed these natural defenses, and the elderly or immunity-compromised may not have the healthy levels of gut flora and antibodies required to fend off the infection.
E. coli O157:H7 is particularly damaging to the kidneys and other organs responsible for removing toxins from the body. In young children, it can create a poisonous toxin that weakens the walls of the small intestine. The linings of some smaller blood vessels in the kidney can also become weakened. This is a serious complication called hemolytic uremic syndrome (HUS), and it is possible for sufferers to experience complete kidney failure or other complications, such as paralysis, blindness, and seizures.
This bacteria does not respond well to the traditional over-the-counter remedies for its symptoms. Antidiarrheal medications can make the infection worse, since they prevent the body from naturally eliminating some toxins. Antibiotics essentially kill off any bacteria they encounter, including the good intestinal bacteria strains assigned to fight off the E. coli invasion. Since there is no current treatment for severe infections, the sufferer must endure the unpleasant symptoms until the infection has run its course, generally within one to two weeks.
AS FEATURED ON:
AS FEATURED ON:

By: zurbagan

E. coli can be especially dangerous to children, causing damage to vital organs such as the kidneys.

By: psdesign1

E. Coli releases toxins that weaken the walls of the small intestine.

By: jedi-master

Nausea is one common symptom of an E. coli infection.

By: Photographee.eu

In 2006, U.S. consumers were notified that some bagged spinach sold in grocery stores was contaminated with E. coli.

By: sframe

E. coli may cause sever abdominal cramping.

By: malexeum

Food poisoning often occurs when food is prepared or handled in a way that's unsanitary, contaminating it with pathogens such as E. coli.

By: riccardo bruni

Elderly may be more susceptible to the dangers of E. coli contamination.