How can I Lose a Beer Belly?
If you are a regular drinker, you may notice that your stomach has started to get slightly bigger. It may have even come to the point where it is now hanging over your waistband. A beer belly is a problem suffered particularly by men, but it can affect women as well. The best way to lose the belly is to cut down on the alcohol and begin some form of regular exercise.
The calorie content in alcohol, especially in beer, is very high. These calories tend to get converted by the body into a beer belly. Other parts of the body may also show excess fat due to the amount of alcohol consumed. The torso, chest and abdomen are the most common areas to carry this extra weight.
If the thought of giving up alcohol completely is too much, try changing to light beers. Light beers have around two-thirds of the calories of normal beer. Fewer calories in the beer mean less fat on the belly. Try drinking only on weekends and alternating beer with a diet drink or juice. This will not only help decrease your belly size, but will keep you clear headed as well.
If your beer belly is becoming a real problem, try cutting out alcohol for at least a month. In some people, alcohol consumption can lead to an increased appetite. If you cut down or eliminate drinking, you may find that you are not eating as much food, particularly fast food. You may find it surprising how quickly the weight drops off if you cut out alcohol completely.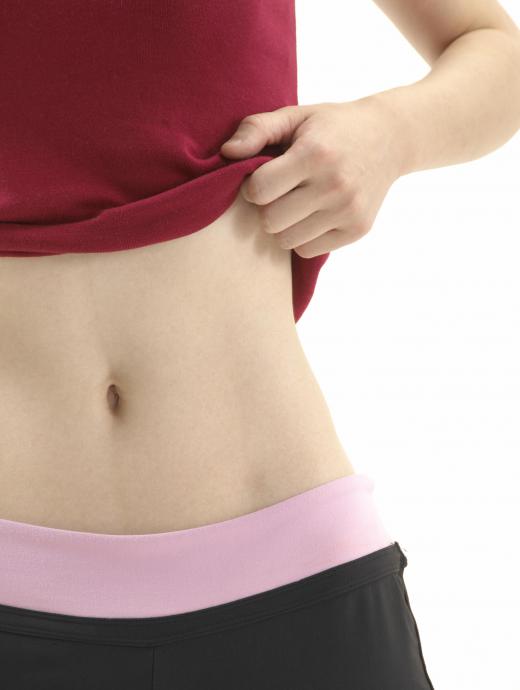 Exercise is another way to combat a beer belly. You may have fantastic stomach muscles, but no one is going to see them under belly fat. Many people believe that sit-ups are great for losing fat. Sit-ups are great for strengthening the stomach muscles and lower back, but they won't eliminate the fat hiding the muscles.
The best weight loss exercises are cardiovascular and aerobic programs. These types of exercise are great at getting the heart pumping faster and also help you break into a sweat. Good fat burning exercises include running, swimming, cycling and tennis or squash. If you stick to 30 minutes a day, three times a week, you should notice results in around ten weeks.
Cutting down on the alcohol, eating healthily and exercising may sound tedious to many people, but the results and healthy feeling will be worth it. You will start to look good in clothes again and will have a greater supply of energy. That extra belly fat could be gone in around ten weeks if you put your mind to it.
AS FEATURED ON:
AS FEATURED ON:

Three men with beer bellies at the beach.

By: volff

Beer.

By: Paylessimages

A woman with a toned belly.

By: Galina Barskaya

Activities such as tennis may help reduce a beer belly.

By: Givaga

Switching to light beer can be a way to cut down calories while still enjoying the beverage.