How do I Choose the Best Compression Socks?
Compression socks are a type of hosiery item that helps to compensate for inadequate blood circulation in the feet and lower legs. Socks of this type may be worn after surgery or in order to provide some relief from a permanent health issue that has damaged the circulatory system. Choosing the best socks for your needs involves knowing what degree of compression is required to properly compensate for the lack or proper circulation.
There are five commonly used classes or groups of compression socks you can consider. Each class focuses on the degree of compression needed and may be helpful in different situations.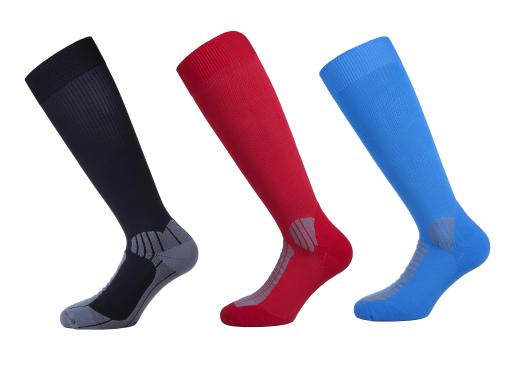 Socks that are formulated for use when light compression is required work very well when the legs are tired because of temporary circumstances, such as pregnancy. These socks can provide relief when the individual must stand or sit in the same position for long periods of time, and they can also help correct any mild swelling that may be present in the legs.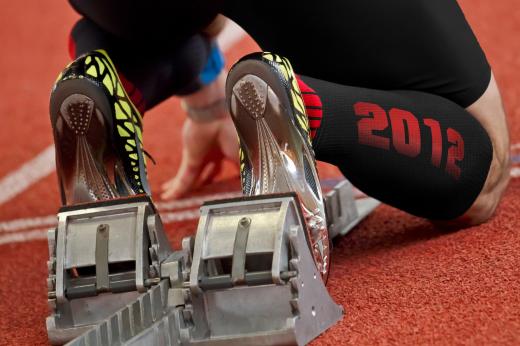 Compression socks in the moderate class or group are intended for use when the circulation is more seriously slowed. For example, if swelling — or edema — in the legs and feet are accompanied by pain and fatigue, socks of this type often prove helpful. They can also help when varicose veins begin to appear on the legs during pregnancy.
A firm sock is sometimes necessary when the symptoms are not alleviated by products in the lighter classes. They may also be worn as part of the ongoing treatment for a primary venous ulcer or to help deal with orthostatic or postural hypotension.
Extra firm compression socks are used to address severe cases of edema and varicosities or when the individual is diagnosed with a form of chronic venous disease, normally grades II and III. Should other health factors, such as severe post thrombotic syndrome or lymphedema after decongestant therapy, be present, extra firm socks can often provide the highest degree of relief.
Products in the heavy classes are necessary in cases where there are serious circulation problems in the feet and legs. Most of the health conditions that would merit socks of this type are also associated with the extra firm socks, but the heavy variety are used when the patient does not seem to be getting the amount of circulation that a medical professional thinks is necessary.
When choosing the right compression socks, it is important to speak with a medical professional about all the factors that are inhibiting proper circulation in the legs and feet. Knowing exactly what health issues are causing the problem will make it easier to settle on the proper class socks and get the maximum amount of relief possible.
AS FEATURED ON:
AS FEATURED ON:

By: Werner Fellner

Compression socks vary depending on how much circulation compensation is needed.

By: mezzotint_fotolia

A runner wearing compression socks.

By: roblan

People with varicose veins may wear compression stockings for comfort and to improve circulation.

By: lekcej

Compression socks may be used to relieve discomfort associated with edema.

By: nito

Medical compression socks may be worn after surgery.

By: snapgalleria

Compression socks are usually worn by people with a damaged circulatory system.