Edema is the accumulation of fluid in bodily tissues or a body cavity. The word is derived from the Middle English word ydema, which comes from the Greek word for "swelling." In people who suffer from this condition, the swelling is usually clearly visible. Most commonly found in the feet and legs, fluid accumulates beneath the skin in the spaces within the body tissues outside of the blood vessels, called interstitial spaces or compartments.
Most often a result of diseases of the liver, heart, and kidneys, edema is directly caused by salt retention. Besides the legs and feet, other main areas where fluid can build up include the lungs (alveoli), the abdomen or peritoneal cavity, and the chest. When it occurs in the lungs, it is called pulmonary edema and is usually caused by heart failure.
Most people can consume a large amount of salt without having any problems, but those with underlying disease may not be able to process and eliminate the excess. People with heart disease experience a reduced flow of blood to their kidneys, which then affects the kidneys' ability to eliminate salt. This leads to the retention of fluid, and possibly edema.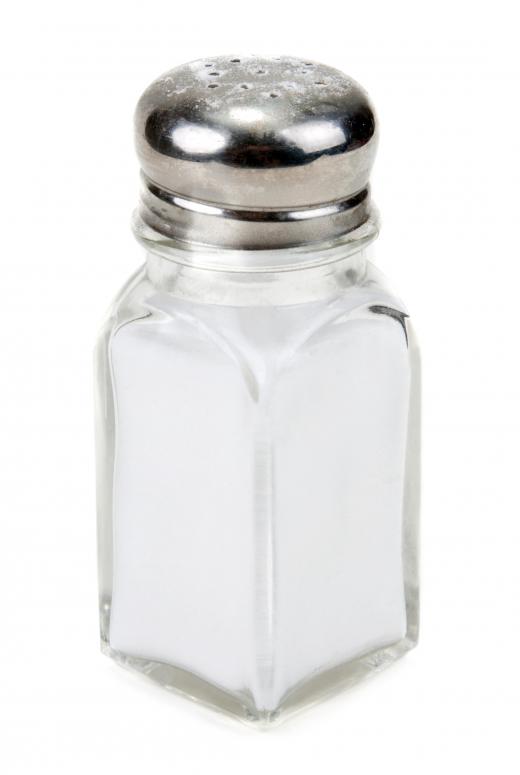 There are two types — pitting and non-pitting — and knowing which kind a person has can help a medical professional diagnose the cause. With pitting edema, the swollen area shows indentations when it's touched, and may hold the lines from the socks or stockings. The non-pitting type does not retain an indentation and is often seen in people with lymphatic system problems or hypothyroidism.
Idiopathic edema is a type of pitting edema that occurs without any obvious underlying disease or condition. It is most often seen in women, who experience it in the legs and feet when they are pre-menopausal or pre-menstrual. The condition is sometimes known as cyclical edema. Besides treating the underlying condition, medical professionals often recommend diuretics and reduction of salt intake to treat the swelling itself.
AS FEATURED ON:
AS FEATURED ON:

By: Dusan Kostic

The foot of a person with edema.

By: Ruslan Kudrin

Cutting back on salt may help relieve edema.

By: Alila Medical Media

Pulmonary edema refers to a medical condition characterized by the build up of fluid around the lungs.

By: Aleksandar Todorovic

Pulmonary edema is usually caused by heart failure.

By: Andreja Donko

Compression stockings may help prevent fluid from collecting in the lower extremities.

By: Ocskay Bence

Keeping the legs elevated may help treat leg edema.