How do I Choose the Best Magnesium Citrate Powder?
Magnesium citrate powder is a chemical supplement used to maintain healthy bowels and magnesium levels. Chemically referred to as a magnesium salt of citric acid, magnesium citrate powder works by absorbing water from surrounding tissues through a process called osmosis. When enough water has been absorbed, the body will move the fluid through the intestines, form feces, and flow out of the bowels. Choosing the best magnesium citrate powder depends on the individual's magnesium levels, dietary requirements, and personal taste preferences.
When a person has a magnesium deficiency, she may exhibit symptoms such as muscle weakness and fatigue. Severe cases of magnesium deficiency may lead to muscle tremors, changes in appetite, nausea, or even heart failure. Patients suffering from magnesium deficiency are typically required to modify their diet and take a supplement such as magnesium citrate powder or magnesium chloride tablets. A combination vitamin that includes magnesium may also be prescribed.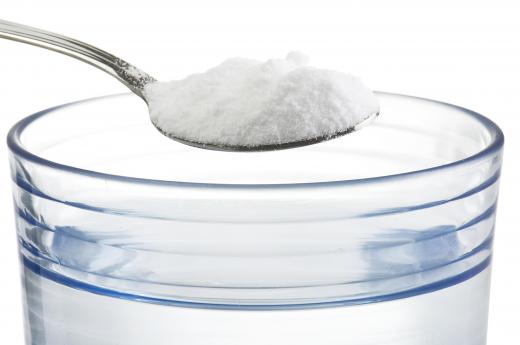 The benefits of using magnesium citrate powder include stronger bones, reduced constipation and leg cramps, and also the reduction in gall stones and kidney stones. According to the National Institute of Health (NIH), less than 50 percent of the US population gets enough magnesium in their daily diet. To increase magnesium levels, consumption of black beans, broccoli, okra, spinach, and pumpkin should go up. If those particular foods do not seem appealing, choosing to increase magnesium levels through a powder may be the best option.
Personal taste preferences also play a role in choosing the best magnesium citrate powder. There are many brands currently on the market and most are available in citrus flavors. Another factor is the particle size. The smaller particles may dissolve better in water and be more palatable to drink. Some brands also use sugar or artificial sweeteners to improve the taste.
Magnesium citrate powder should be consumed as a supplement for dietary deficiencies. The NIH recommends maximum magnesium consumption from all sources be no more than between 270 and 400 milligrams daily for adult males and between 280 and 300 milligrams daily for adult females. Typically the suggested daily consumption of the powder should be one teaspoon dissolved in 8 to 10 ounces of water.
Overdoses of magnesium can occur if more than the recommended daily doses are taken. The most common symptom of a magnesium overdose is diarrhea and severe dehydration. Less common symptoms include nausea, vomiting, and dizziness. If a magnesium overdose is suspected, immediately stop using magnesium citrate powder and consult a doctor.
AS FEATURED ON:
AS FEATURED ON:

By: Orlando Bellini

Magnesium citrate powder can be used as a dietary supplement.

By: concept w

When a person has a magnesium deficiency, she may exhibit symptoms such as muscle weakness and fatigue.

By: p6m5

One benefit of using magnesium citrate powder is to reduce kidney stones.

By: hriana

Confusion and rapid heartbeat may occur as a result of an insufficient amount of magnesium in the blood.

By: Irena Misevic

Magnesium citrate powder may help treat leg cramps.

By: mates

Spinach has high levels of magnesium, a mineral that is lacking in many people's diet.

By: KBF MEDIA

Someone with a magnesium deficiency may experience muscle weakness and fatigue.

By: Tatty

Symptoms of a magnesium overdose may include vomiting.