How do I Determine the Appropriate Turmeric Dosage?
Turmeric, with the botanical name Curcuma longa, and belonging to the ginger family, is a root that is commonly used as a condiment in Indian cuisine, and is well-known for its many health benefits. Used directly in fresh root form or as a powder made from the dried and ground root, turmeric contains active components known as curcuminoids that give the root its distinctive yellow-orange color. The turmeric extract curcumin, which is used in concentrated forms in dietary supplements and nutritional supplements, possesses antioxidant and anti-inflammatory properties.
In traditional Ayurvedic medicine, turmeric is considered to be extremely valuable. It has been used to prepare remedies for colds, ulcers, heartburn, irritable and inflammatory bowel syndrome. Turmeric paste can be applied to treat fractures, swellings, wounds, sunburn and acne. Patients suffering from psoriasis, cystic fibrosis and liver ailments have benefited from turmeric.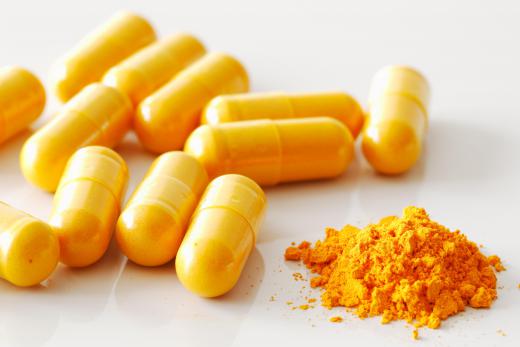 Regular turmeric dosage can protect against or control the effects of arthritis and diabetes. Curcumin is good for the brain as it regenerates and repairs brain cells and prevents the accumulation of amyloid protein, a harmful protein that is responsible for Alzheimer's disease. Research on turmeric and cancer has shown that curcumin can provide effective assistance in cancer treatment in killing off cancerous cells. It can inhibit the progression of prostate cancer, leukemia and multiple myeloma. Curcumin and turmeric have also seen to be quite effective against multiple sclerosis.
Various clinical tests carried out on turmeric deem it to be generally safe for regular use. In determining the appropriate turmeric dosage to take on a daily basis though, it is preferable to take it in moderation. A concentrated dose of 50 mg to 100 mg can be quite sufficient if taking a turmeric supplement or a turmeric capsule. Dietary supplements may not be necessary if turmeric is made part of the normal diet; a few pinches of it can be added to vegetables, soups, casseroles, rice and other foods during cooking.
If taken in excess, there may be some side effects such as nausea and stomach upsets. A more major problem with taking turmeric in high amounts is that it acts as an anti-coagulant, that is, it prevents the blood from clotting in the event of an injury. Too much curcumin in the system may prevent wounds from healing quickly, cause intestinal bleeding, and lead to further health complications.
Another issue to bear in mind is the chelating activity of turmeric. Turmeric dosage in moderate amounts can help the body get rid of a toxic excess of metals like iron and copper. If overdone, the chelating agents can impede the iron metabolic process, resulting in iron deficiency and anemia.
AS FEATURED ON:
AS FEATURED ON:

By: Sophie James

Turmeric can be taken in pill form as a dietary supplement.

By: Elena Moiseeva

Turmeric powder.

By: Rostislav Sedlacek

Turmeric paste may be used to treat sunburns.

By: joshya

Turmeric has been an beneficial supplement for people with cystic fibrosis.

By: p6m5

In traditional Ayurvedic medicine, turmeric is considered valuable in the treatment of ulcers.

By: joshya

Turmeric can be used to remedy irritable bowel syndrome.

By: Iryna Volina

Turmeric is used in traditional Ayurvedic medicine, which originated in India.