How Do I Treat a Yellow Tongue?
A yellow coating on the tongue is usually not considered cause for alarm, and a yellow tongue alone may not require a physician's attention. Self-treatment for yellow tongue typically involves carefully brushing the tongue with a soft-bristle toothbrush. A solution of five parts water mixed with one part hydrogen peroxide may be used to brush the tongue and rinse the mouth after brushing. Tobacco smoking should be minimized or avoided altogether, and an increase in dietary fiber can help. Drinking plenty of water can also help improve a yellow tongue coating, since bacteria are often more likely to thrive in a dry mouth.
Yellow tongue is not usually a serious medical symptom. Most of the time, a yellow tongue can be treated at home by brushing the tongue regularly with a hydrogen peroxide solution. Sometimes, a yellow tongue may be a symptom of liver or gallbladder disorder, in which case it may be accompanied by other symptoms, such as a yellowing of the whites of the eyes and skin. A yellow tongue that persists despite self-treatment at home may also be cause for concern. Causes of tongue yellowing can include a generally innocuous proliferation of bacteria on the tongue, tobacco smoking, insufficient dietary fiber, or related conditions such as geographic tongue or black hairy tongue.
The condition known as geographic tongue sometimes causes yellowing of the tongue's surface. Geographic tongue isn't usually a cause for concern. It typically causes lesions that eliminate the tongue's natural papillae in one or more areas. These lesions can appear to change location as they heal and re-appear. Though the condition may cause some discomfort, it is generally considered benign.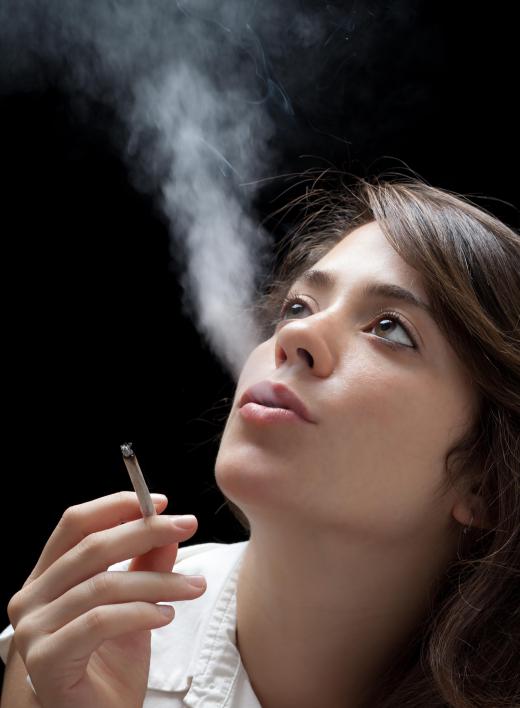 Black hairy tongue is another condition associated with tongue yellowing. Sometimes, the appearance of a yellow layer on the tongue is a preliminary stage of black hairy tongue. Black hairy tongue is also considered benign, and usually occurs when bacteria on the tongue proliferate.
Tobacco smoking and insufficient dietary fiber can also contribute to the formation of a yellow tongue coating. Tobacco smoke can stain the surface of the tongue, causing it to take on a yellow appearance. Dietary fiber is often responsible for scraping excess bacteria from the tongue, so insufficient consumption of dietary fiber can allow tongue bacteria to build up. These bacteria may produce waste products that give the tongue a thick yellow coating.
AS FEATURED ON:
AS FEATURED ON:

By: Jim Mills

Yellow tongue can be treated by brushing one's mouth with a mixture that is one part hydrogen peroxide and five parts water.

By: Mr Korn Flakes

Smokers with yellow tongue should kick back on or quit the habit.

By: Adrian Costea

A yellow tongue.

By: gosphotodesign

Brushing the tongue with a hydrogen peroxide solution can help treat yellow tongue.

By: paylessimages

Medicated breath sprays can help with yellow tongue.

By: peterjunaidy

A yellow tongue may be a symptom of liver or gallbladder disorder.