Is a Water Bed Bad for my Back?
There are many misconception and myths surrounding the use of a water bed, including the idea that it does not provide sufficient back support. This misinformation appears to have its roots in the early days of the industry. Most modern beds of this type are as supportive as more traditional mattresses, however, although not all medical experts recommend them.
Compared to the coil-spring construction of most standard mattresses, the inner support system of an old fashioned water bed seems much less supportive of the user's lumbar region. The belief among traditional mattress manufacturers was that this type of bed did not hold the sleeper's body in proper alignment. They held that the long-term results of water bed sleeping would be more frequent back problems.
In reality, the water bed has proven itself to be just as supportive as most coil spring mattresses. The heavy duty vinyl mattress is usually compressed within the sturdy box frame, and various baffles and barriers can allow full wave action, semi-wave action, or no wave action at all. The water can be quite supportive but still allow for the give that a harder coil mattress might not.
Some critics suggest that the full wave action of this type of bed allows the sleeper's lower back to sink dangerously low. In turn, this misalignment could create problems for the entire back. The effect would be similar to sitting in a formless beanbag chair for extended periods of time, and eventually, the lack of support would put too much stress on the joints and vertebrae. Most modern beds don't have quite so much give, however.
One advantage of this type of bed is the addition of heat. Many modern models feature heating elements that can reach therapeutic temperatures, which can help relax all of the muscles of the neck, back and hips equally. The compression of the water by the sleeper's body can also provide the same pressure point relief of traditional orthopedic mattresses. Earlier full wave water beds may have made the entry and dismount process trickier, but once the sleeper assumed a natural sleep position, he or she could still be supported by the weight of the water under compression.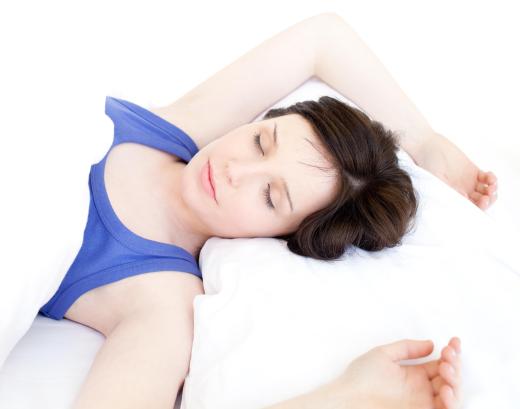 A water bed may not receive universal approval from physicians for patients with chronic back problems, but neither is it the spine-twisting torture device some rival mattress companies portray it as. Supporters of heated beds often mention their positive effects on back troubles caused by the sagging tendencies of other mattress systems.
AS FEATURED ON:
AS FEATURED ON:

By: Lars Zahner

Most modern waterbeds are as supportive as coil mattresses.

By: Syda Productions

Patients suffering from chronic back problems may find water beds to be uncomfortable.

By: Akhilesh Sharma

Sitting in a beanbag chair for extended periods of time can cause back pain.

By: WavebreakMediaMicro

Some high-end water beds provide firm back support.

By: vladimirfloyd

Sleeping on a water bed may help support the spine and relieve neck pain in some people.