Bier spots are small flecks of pale skin, usually in the arms and legs, associated with vascular changes. They are usually benign but can be of cosmetic concern. If a patient reports to a doctor with bier spots, the doctor may investigate to confirm that they are not a sign of an underlying medical problem. In generally healthy patients, the doctor may recommend medications to address the issue if it causes distress, but may otherwise advise ignoring the spots unless they change or the patient develops new symptoms.
In patients with these spots, the skin can develop a mottled appearance, with patches of lighter and darker skin caused by poor circulation in the capillary blood vessels near the surface of the skin. Applying momentary pressure to the skin or raising the limb above the head can cause the spots to disappear. They may be more extreme in cold, reflecting decreased surface circulation in cold conditions.
Patients with these spots may not experience any other health problems. If the flecks are noticeable and irritating or they attract attention, some medications can be explored to treat them. It may take several tries to find a drug the patient responds to. The doctor also needs to consider the risk of side effects, especially since the spots do not pose a threat.
Other patients may have this condition with other medical issues that suggest there may be a deeper problem. Patients with liver damage, for instance, sometimes develop these spots, and they can also be seen in patients with vascular disorders. If the patient also experiences fatigue, nausea, and other symptoms, the doctor may recommend screening to learn more. An underlying medical issue may require treatment, and the spots could resolve if the doctor successfully treats the cause.
Skin changes, even if they appear minor, can be a cause for concern. A patient who notices bier spots or other changes to the skin may want to consider a visit to a dermatologist for evaluation. The doctor can examine the patient and may recommend some testing and other diagnostic options to determine the cause of the skin changes. In the event they are a sign of a problem, early intervention can increase the chances of a positive outcome, and may in some cases save the patient's life by providing a chance to treat a condition before it has an opportunity to spread.
Why Do Bier Spots Happen?
Since their discovery in 1898, we have learned more about the rare Bier spots. Bier Spots are a unique dysfunction because they generally disappear with elevation. Bier Spots are often referred to as vascular anomaly.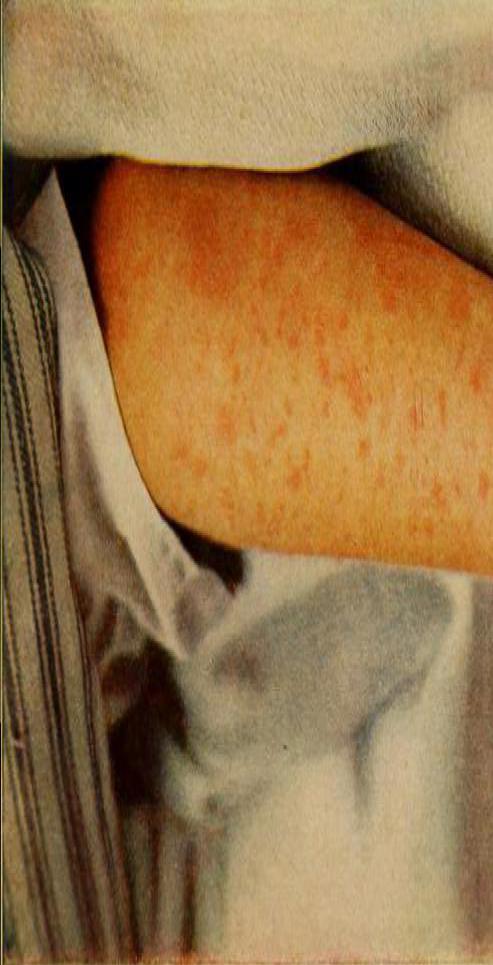 What is a vascular anomaly? The most efficient way to describe it is a dysfunction of the vascular system. The vascular system carries blood through the veins. Veins run through the entire body. When the vessels spasm or experience a dysfunction, this is when Bier Spots appear. 
An abnormal function is essentially a restricted blood vessel. Nevertheless, Bier spots are often benign and are not always indicative of underlying issues. That doesn't mean they can't be underlying issues. 
Possible Underlying Causes of Bier Spots
To determine if the bier spots are a sign of a more serious condition, doctors use something called differential diagnosis. 
A differential diagnosis is a way of eliminating other diseases and isolating the issue. There are several conditions similar to Bier spots. And doctors need to confirm if further treatment is necessary or not. 
Vitiligo is a common look-alike for Bier spots. Vitiligo is a loss of skin color, often in patches. It tends to be more severe than Bier spots. However, it should still be decided it is not a cause.
Bier spots may appear in conjunction with Hypoxia. Hypoxia is an issue of insufficient oxygen flow throughout the body. Which can cause skin discoloration and vascular disruption, so you would notice the skin abnormality. 
Something called Venous Hypertension is another culprit. Simply put, Venous Hypertension is tension in the veins that causes abnormal pressure or constriction and thus causes skin discoloration. This disease's most common manifestation is the varicose veins of the legs.
One thing of note is that liver disease could be an underlying cause. If the liver is experiencing any dysfunction, it may reflect in the skin as Bier spots. If the liver can't transfer toxins as it is supposed to Bier Spots can appear. This would be an example of Bier Spots indicating something more serious. 
Bier spots often disappear with elevation. So if the issue is associated with the liver Bier Spots will not disappear with elevation. The Bier spots, in this case, will remain regardless of being elevated, temperature change, or adding pressure. 
While Bier spots themselves are benign, getting an accurate diagnosis is necessary to rule out underlying issues. Being diagnosed also assists medical professionals in understanding the prevalence of Bier Spots. 
Other Important Facts Related to Bier Spots
Bier spots occur most commonly in the arms, legs, and sometimes the torso. Bier spots rarely appear on the face and there is an interesting explanation for this. 
This is a vascular issue affecting blood flow and circulation. One explanation has to do with the fact that legs and arms are almost always down. They rarely receive elevation, so we see Bier spots fade or disappear when elevated. 
Bier spots tend to appear in young adulthood. They also tend to affect women more than men. Interestingly, there are some connections between iron deficiency and Bier spots. Incidentally, iron deficiency is more common in women than in men. 
Lastly, Bier spots are an anomaly. So there are not a lot of known predispositions, such as genetics, race, or environmental factors. 
What To Do About Bier Spots?
Bier spots are considered a vascular issue. Because of the affected appearance of the skin, many considered it a dermatological issue. Whatever the case, Bier spots are hard to treat, because they don't have a serious underlying cause. 
However, it can never hurt to check with a doctor to ensure there isn't an underlying issue. If the diagnosis is Bier spots, there isn't much that is done to treat them. Nor can a dermatologist do much about the appearance. 
While a doctor may explore medications, there hasn't been a lot of success with medication as a treatment. Additionally, there doesn't seem to be any treatment for the vascular issue. 
Bier spots can be particularly upsetting to the person being affected. The most commonly recommended treatment is counseling or therapy. This can help someone deal with the emotional distress that might accompany Bier spots. 









AS FEATURED ON:
AS FEATURED ON:

By: mario beauregard

Bier spots may be more extreme in cold conditions.

By: CLIPAREA.com

Bier spots may be indicative of liver damage.

By: staras

Small flecks of pale skin found on the arms and legs may be referred to as bier spots.

Patients with bier spots can develop the appearance of mottled skin.