What are Satellite Lesions?
Satellite lesions are secondary lesions that form in close proximity to a primary lesion. Finding these lesions on an exam can be an important diagnostic clue, as they are associated with some specific conditions, and they can also be used in the staging and evaluation of disease. The presence of satellite lesions generally indicates a disease is more advanced, as it has had more time to spread in a localized area.
Lesions in general are abnormal tissue changes. They can be associated with a number of things, ranging from inflammation associated with cuts and burns to the proliferation of cells associated with cancer. Often, lesions are visible to the naked eye or can be identified on an X-ray or other imaging study. Sometimes, they are subtle enough to require a biopsy so samples can be taken and looked at under a microscope.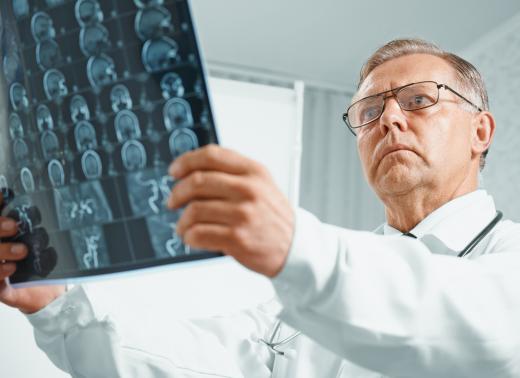 In the case of satellite lesions, the lesions are usually visible upon examination. They take the form of small splotches or markings around a larger main lesion, with coloration and other characteristics clearly linking them to the primary lesion. They are close enough to be demonstrably associated with the primary lesion, rather than being entirely separate and new. Conditions like melanoma and a skin disease called pinta are often associated with satellite lesions.
When surgeons take suspected cancerous cells for biopsy, they will check for the presence of satellite lesions. They will also take clean margins with the goal of allowing the pathologist to confirm the presence or lack of satellites. The pathology report will usually provide information about whether satellites were found and how large they were. This information is used to determine how aggressive the cancer is and how far it has spread. The presence of satellites usually indicates a more aggressive cancer, in addition to complicating treatment, as the satellites need to be removed along with the primary lesion.
For things like skin diseases, satellite lesions are common. As an area of inflammation, infection, or irritation develops, it can spread unevenly across skin in the surrounding area. A smattering of markings similar to that seen in the main lesions can be observed and the smaller lesions will usually develop crusts, itch, and show other signs of being related to the main lesion. When treating skin diseases with topical medications, it is important to make sure the satellite lesions are completely covered. Otherwise, the disease may persist or recur because it is not thoroughly treated.
AS FEATURED ON:
AS FEATURED ON:

By: Remains

Lesions may be identified on an X-ray.

By: 3ThousandPhotoSTD

Topical medications may be helpful in treating satellite lesions.

By: librakv

Some cancers are diagnosed by the presence of lesions.

By: pankajstock123

Lesions may develop on the liver.

By: micromonkey

Satellite lesions may be subtle and require a biopsy so samples can be viewed under a microscope.