What Are the Causes of a Low Anion Gap?
A low anion gap is often a rare finding, typically indicating a decrease in negatively charged proteins in the blood. It can result from conditions like multiple myeloma or liver disease. How might changes in your anion gap reflect your overall health?
People can have a low anion gap for a number of reasons. This value, which compares the concentration of positively charged ions in the blood to negatively charged ions in the blood, can become abnormal by a number of metabolic derangements. Having low levels of albumin, a negatively charged protein, can cause a decreased anion gap. High concentrations of positively charged proteins can also cause this change. Lab error, lithium intoxication, and bromide ingestion can all also cause a low anion gap.
In order to understand the significance of a low anion gap, it helps to understand what the anion gap is, how it is measured, and what it means. The anion gap is calculated after measuring the concentrations of different electrolytes in the serum. Typically, it is calculated by subtracting negatively charged substances, including chloride and bicarbonate, from positively charged substances, including sodium. A normal value is typically around 12. Having a low anion gap is fairly rare, and in some studies has been shown to be present in less than 1 percent of hospitalized patients.
Patients who have decreased levels of albumin — a protein made by the liver that circulates in the blood — can have a low anion gap. Albumin has a negative charge, and when the concentrations of this protein decrease in the blood, the body compensates by keeping more negatively charged ions including chloride in the blood. Higher levels of chloride and bicarbonate lead to a decreased anion gap. Patients with liver disease, malnutrition, and kidney disease commonly have decreased levels of albumin in their blood.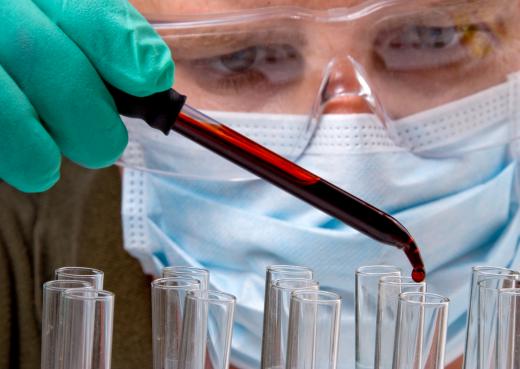 Conditions that result in the excess production of positively-charged protein can also cause a decreased anion gap. Multiple myeloma, for example, is a malignancy in which patients produce large amounts of proteins that are typically used as antibodies. As these proteins have a positive charge, the body compensates by excreting positively charged ions such as sodium. Therefore, the anion gap is decreased.
Some intoxications in which patients take in negatively charged ions can also cause a low anion gap. An overdose of lithium, which is a medication commonly used to treat bipolar disorder, increases the amount of negative ions in the serum, decreasing the anion gap. Taking excess bromide can cause a similar effect.
Another cause of a low anion gap is laboratory error. If the values provided for serum concentrations of sodium, chloride, and bicarbonate are incorrect, then the anion gap could be calculated as low when in reality it is normal. Doctors or other health care professionals should use their clinical judgment when interpreting laboratory values, and be sure to question values that don't make sense. The best way to determine if there is a laboratory error is to recheck the serum electrolyte concentrations.
What Does a Low Anion Gap Mean? 
If you have recently had blood work done, your doctor might call you back into the office for retesting due to a low anion gap on your results. When doctors note this issue, there is always cause for concern; it is a rare result, even if you have underlying conditions. Retesting is immediately conducted to ensure that the reading wasn't false or to immediately determine a course of care.
Electrolyte Imbalance 
If your blood test results were accurate and you do have a low anion gap, it could indicate a wide variety of health issues. Typically, a low anion gap indicates a pH imbalance in the body linked to numerous different problems. However, the symptoms can be difficult to pin to electrolyte imbalances because they are so common and can have a wide range of other causes:
Dehydration
Reactions to toxic substances
Edema
Cardiac arrhythmias 
Nausea and vomiting 
Confusion 
Weakness 
Hypoalbuminemia
Another potential cause for a low anion gap is far more uncommon than even the pH imbalance. A condition called hypoalbuminemia indicates there is less than the necessary amount of the protein albumin in the blood and is also known to cause a low anion gap. Inflammation is the starting point of hypoalbuminemia and can be caused by:
Malnutrition 
Liver or kidney disease
Lithium toxicity 
Severe burns 
Too much calcium, potassium, or magnesium
Multiple myeloma
How To Lower Anion Gap? 
Alternately, patients may receive results that indicate a high anion gap in their bloodwork. High anion gaps point to either too little alkali or too much acid present in the blood. Lowering the anion gap back to a normal range is essential to maintain wellness.
High Acid Levels or Acidosis 
Acidosis can be extremely dangerous if left untreated. Often, patients are unaware that they have acidosis until bloodwork comes back from investigating another underlying symptom or disorder. High acid levels in the blood cause common symptoms including but not limited to:
Rapid heart rate 
Nausea 
Headache 
Fatigue 
Shortness of breath 
Low blood pressure 
Drowsiness 
High anion gap metabolic acidosis can result from many different causes, but some require more intensive medical treatment and longer recovery than others:
Drug overdose
Prolonged starvation 
Uncontrolled diabetes 
Kidney damage
Certain medications 
Lactic acidosis 
Alcoholic ketoacidosis 
Chemical poisoning 
High Alkali Levels 
High alkali levels, like acidosis, require swift treatment but can be hard to isolate outside of shared symptoms. Prolonged vomiting can cause hypochloremic alkalosis characterized by below-normal chloride ranges. Metabolic alkalosis indicates too much bicarbonate present in the blood. Symptoms of high levels of alkali include but are not limited to:
Lethargy and fatigue 
Headaches 
Low calcium levels 
Seizures and muscle spasms 
Delirium 
Heart palpitations 
Lowering the Gap 
Since there are at least three primary types of anion gaps and multiple causes for symptoms, patients must consult with their direct care teams before seeking treatment. Proper care depends on which anion gap needs to be addressed and any underlying symptoms or disorders to contend with simultaneously. The general medical approach is to return the levels to the normal range to stabilize the patient's bloodwork.
What Cancers Cause Low Anion Gap? 
In some instances, bloodwork may not be quickly returned to normal even with supplements or balancing acids or bases. Multiple myeloma, also known as Kahler's disease, is a cancer known to cause a low anion gap.
Multiple Myeloma and Other Abnormal Plasma Cells 
Multiple myeloma causes abnormal plasma cells that cause low blood counts, lowered immune systems and increased infections, alongside bone, calcium, and kidney problems. Other uncommon plasma cell disorders are not considered active multiple myeloma but can still alter standard blood work:
Solitary plasmacytoma
Light chain amyloidosis
Smoldering multiple myeloma 
Monoclonal gammopathy of uncertain significance
AS FEATURED ON:
AS FEATURED ON:

By: maya2008

Patients with decreased levels of albumin, a protein made by the liver, can have a low anion gap.

By: Rob Byron

Laboratory error may result in a false positive low anion gap.

By: cappui

Studies show that a low anion gap only occurs in less than one percent of hospitalized patients.